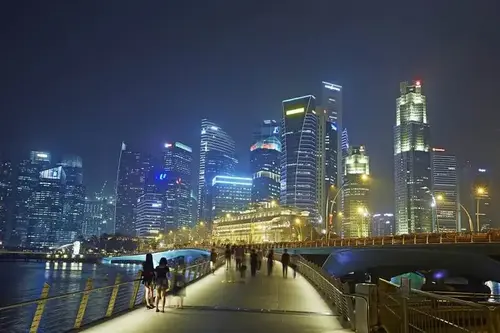 As global stocks fall, Asia-Pacific's benchmark index erases all of its gains for 2023
Allan Baxter | Photolibrary | Getty Images
Asia-Pacific's leading index erased its year-to-date gains and is now flat in 2023 as bank stocks led declines Tuesday.
The MSCI Asia Pacific index hit a low of 155.44 in afternoon trade – marking a decline of more than a 9% from its Feb. 2 high of 171.26 and wiping out its gains for the year so far. The index closed at 155.74 on the last trading day of 2022.
In January, the index entered a bull market during the second trading week of the year, fueled by optimism from China's reopening.
MSCI's broadest index of Asia-Pacific shares outside Japan meanwhile traded 1.47% lower Tuesday afternoon, also marking new lows for the year. Last month, traders saw room for the index to rally further despite near-term volatility.
Markets continued to see sharp losses Tuesday on concerns of a spillover effect from Silicon Valley Bank's collapse, even after U.S. regulators stepped in to protect depositors over the weekend.
"Concerns of a global economic rout continue to put pressure on the region, which are more value-focused," IG analyst Yeap Jun Rong said in a Tuesday note.
On Tuesday, bank stocks in Japan declined sharply, weighing on the wider Topix, which led the sell-off in Asia-Pacific. The index closed 2.7% lower as financials dipped 4.65%, Refinitiv data showed.
Tokyo-listed shares of Mitsubishi UFJ Financial Group fell 8.59%, Sumitomo Mitsui Financial Group shed 7.57% and Mizuho Financial Group dropped 7.14%. Technology giant SoftBank Group also saw losses of more than 4%.
Yeap also noted indexes such as the Straits Times Index in Singapore has close to 45% of its weightage in bank stocks. Shares of DBS, United Overseas Bank and Oversea-Chinese Banking Corporation led declines Tuesday.
On Monday, the Monetary Authority of Singapore said its exposure to failed U.S. banks was "insignificant."
"Banks in Singapore are well-capitalized and conduct regular stress tests against interest rate and other risks," it said, adding that their liquidity positions are healthy and supported by a "stable and diversified funding base."
Nomura equity strategists including Chetan Seth reiterated their February call and still expect more gains for the index.
Strategists wrote in a Monday note, "Although we do not think there is any material fundamental impact on Asian stocks from US banking sector issues, there is always risk of some 'skeletons emerging from the closet.'"
"We are inclined to believe that these issues will not be systemic to the health of the banking sector," he said.
Societe Generale's head of Asia equity strategy Frank Benzimra said a rise in systemic risk is widely seen as part of a pattern at the end of a Fed cycle.
"When inflation rises, the first order effect is higher rates, the second being a rise in systemic risk – the SVB episode is part of this framework," he said, adding that threats to financial stability "typically happens at the late stage of the Fed cycle."
"Having said that, SVB is very much a special situation in terms of its funding, not being subject to coverage and funding ratios (LCR/NSFR rules), and MBS/UST portfolios being Available-For-Sales," he said.
Source: https://www.cnbc.com/2023/03/14/msci-asia-pacific-erases-all-its-gains-for-2023.html
Related Posts