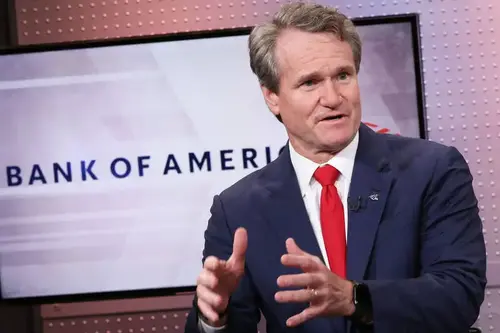 Bank of America tops expectations as higher rates help offset declines in investment banking
Brian Moynihan, CEO, Bank of America
Scott Mlyn | CNBC
Bank of America reported fourth-quarter results on Friday that topped expectations on the top and bottom lines.
Here are the key metrics compared to what Wall Street expects:
Earnings: 85 cents per share versus 77 cents a share, according to Refinitiv
Revenue: $24.66 billion versus $24.3 billion, according to Refinitiv
Shares of Bank of America rose about 1% in premarket trading.
Expectations are running high that Bank of America will post gains in interest income thanks to higher rates and loan growth in the fourth quarter.
Bank of America, led by CEO Brian Moynihan, was supposed to be one of the main beneficiaries of the Federal Reserve's rate-boosting campaign. But bank stocks got hammered last year amid concerns a recession was on the way.
Investors will be eager to see how well the bank's retail and business customers are holding up.
In the first few days of the new year, Bank of America's stock is up 4%.
This is a breaking news story. Please check back for updates.
Source: https://www.cnbc.com/2023/01/13/bank-of-america-bac-q4-earnings-2022.html
Related Posts