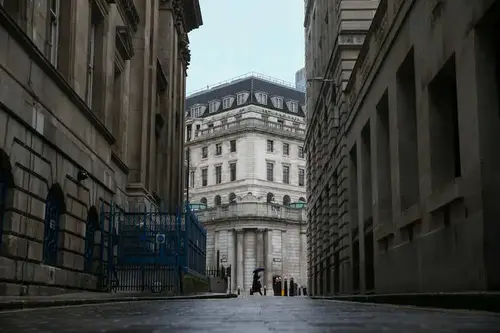 Bank of England hikes interest rates by 25 basis points after inflation surprises
A passageway near the Bank of England (BOE) in the City of London, U.K., on Thursday, March 18, 2021.
Hollie Adams | Bloomberg | Getty Images
LONDON — The Bank of England on Thursday hiked interest rates by 25 basis point as it grapples with persistent high inflation against the backdrop of concerns over the banking system.
The Monetary Policy Committee voted 7-2 in favor of raising the Bank rate to 4.25%, in a widely anticipated move after official data on Wednesday showed that U.K. inflation unexpectedly jumped to an annual 10.4% in February.
In its summary, the MPC highlighted that global growth is expected to be stronger than projected in its February Monetary Policy Report, while core consumer price inflation — which excludes volatile food and energy prices — has remained elevated.
The Bank of England estimates that additional fiscal support announced in Finance Minister Jeremy Hunt's Spring Budget last week will increase the level of the U.K. GDP by around 0.3% over the coming years.
"GDP is still likely to have been broadly flat around the turn of the year, but is now expected to increase slightly in the second quarter, compared with the 0.4% decline anticipated in the February Report," the MPC said in its report.
"As the Government's Energy Price Guarantee (EPG) will be maintained at £2,500 for three further months from April, real household disposable income could remain broadly flat in the near term, rather than falling significantly."
UK banking system 'remains resilient'
The U.S. Federal Reserve also increased its key rate by 25 basis points on Wednesday and suggested that "some additional policy firming may be appropriate." It acknowledged the likely impact of recent problems in the banking system.
The Swiss National Bank lifted its own policy rate by 50 basis points to 1.5% on Thursday.
Central banks around the world have been monitoring the fallout from the collapse of U.S.-based Silicon Valley Bank and the emergency rescue of Credit Suisse.
Many analysts believe contagion risks have eased in recent days, and the Bank's Financial Policy Committee has determined that the British banking system "remains resilient."
The FPC assessed that the U.K. banking system "maintains robust capital and strong liquidity positions, and is well placed to continue supporting the economy in a wide range of economic scenarios, including a period of higher interest rates."
"Reflecting these developments, bank wholesale funding costs have risen in the United Kingdom and other advanced economies," the MPC said in the Thursday report.
"The MPC will continue to monitor closely any effects on the credit conditions faced by households and businesses, and hence the impact on the macroeconomic and inflation outlook."
Source: https://www.cnbc.com/2023/03/23/bank-of-england-hikes-interest-rates-by-25-basis-points-after-inflation-surprises.html
Related Posts