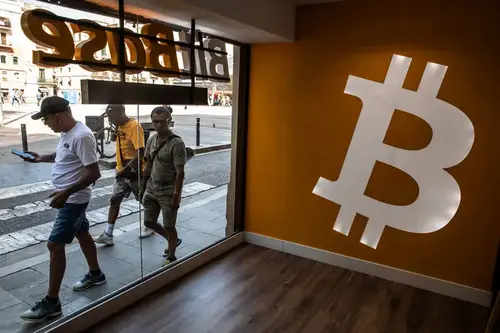 Bitcoin has now recovered all its losses since FTX collapsed
A Bitcoin logo inside a BitBase cryptocurrency exchange in Barcelona, Spain, on Monday, May 16, 2022.
Angel Garcia | Bloomberg | Getty Images
Bitcoin has held steady above $21,000 for the last two days, bringing it back above the price it was when Sam Bankman-Fried's crypto exchange, FTX, began its slide toward bankruptcy.
Since Monday, Bitcoin has held largely steady above $21,000, well above its Nov. 2 price of $20,283.
The price of bitcoin has jumped over 22% in the last seven days, according to data from CoinMarketCap. Bitcoin fell by that same amount in less than a day, between Nov. 7 and Nov. 8, as investors struggled to assess the impact of a potential FTX collapse and the likelihood of a Binance-backed FTX bailout. It dipped below $16,000 several times in the following weeks.
CoinDesk first reported on irregularities at FTX's sister hedge fund, Alameda Research, on Nov. 2. Billions of dollars worth of cryptocurrencies began to flow out of FTX in a matter of days. A potential rescue deal with ChangPeng Zhao's Binance fell apart on Nov. 8, and FTX and Alameda both declared bankruptcy on Nov. 11.
Over that period, Bitcoin, long the most prominent and well-capitalized cryptocurrency, became a vessel for investor concern.
The surging price comes at a time of deep uncertainty for the broader industry. Last Thursday, the Securities and Exchange Commission charged two crypto companies, Genesis Trading and Gemini, with offering and selling unregistered securities.
Multiple rounds of layoffs have struck crypto exchanges, including Coinbase and Crypto.com.
Bitcoin has enjoyed a rally which outpaces the gains made by other cryptocurrencies, according to data from CoinMarketCap. In the last seven days, ether has gained over 18%. The prices of Binance's exchange token, BNB, and ripple have risen 10% and over 11%, respectively.
But ether competitor solana has seen its price rise by over 44% in the last seven days, propelled in part by the minting of a dog-based non-fungible token, Bonk Inu, on Solana's blockchain.
Source: https://www.cnbc.com/2023/01/17/bitcoin-has-now-recovered-all-its-losses-since-ftx-collapsed.html
Related Posts