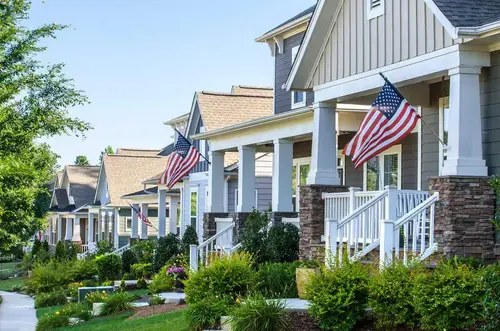 Black families' net worth has grown more than other racial groups since Covid, but wealth gap remains wide
Black families saw their wealth grow more than that of non-Black households during the pandemic, but the racial wealth gap is still vast, a new study showed.
The average net worth among Black households rose to more than $340,000 through the third quarter of last year from the end of 2019, marking an increase of 32% over just 11 quarters, according to research from Wells Fargo using data from the Federal Reserve Board.
While non-Black families had a much higher starting point at roughly $950,000 just before the onset of the pandemic, their wealth has risen just 21% over the same period, the Wells study showed. Even with the improvement, the racial wealth gap is still staggering: Black Americans' net worth is 70% below that of non-Black households.
group">
"There's been progress directionally, but there's still a huge gap," Jay Bryson, chief economist at Wells Fargo, said in an interview. "This is a step in the right direction, but there's still a lot of progress that needs to be made here."
One factor contributing to the slight shrinking in the wealth gap is actually the fact that the assets of Black households are much less diversified.
At the end of 2019, real estate and pension entitlements accounted for roughly 70% of Black household assets, whereas the assets of non-Black households were spread more evenly among six major classes, the study showed.
group">
Because of their lower exposure to the stock market, Black Americans didn't experience huge fluctuations in their equity holdings amid the wild swings on Wall Street in 2022. The S&P 500 tumbled nearly 20% last year for its worst annual loss since 2008.
"The good thing was Black families weren't hit as bad because of that," Bryson said. "The bad thing is they aren't as diversified as what they probably should be, but it certainly did help at least in terms of last year... It is a blessing in disguise."
Real estate boom
Home prices soared during the pandemic as homebound people sought new places to live, boosted by record-low interest rates. The value of real estate holdings of Black individuals has risen by 72% since the end of 2019, nearly doubling the gain experienced by non-Black individuals, the Wells study found. Lower-priced homes tend to have seen a bigger percentage increase.
"What happened was home prices in general went up more among lower price points than they did upon higher price points," Bryson said. "Given the income gap, Black families probably are going to be over represented in lower price points."
Meanwhile, homeownership also rose among Black Americans during Covid as more looked to take advantage of low mortgage rates. The percentage of Black homeowners climbed to 44% in the third quarter of 2021 from 42.7% two years ago, which marked the largest percentage point increase in homeownership rates of any racial or ethnic group, the study showed.
The U.S. housing market started to cool off after mortgage rates more than doubled from historic lows.
A blip?
Experts cautioned that just one study focusing on a short timeframe might not represent a sustainable bridging in racial wealth gap.
"I don't think it signifies any true bridging in racial wealth inequality," Dedrick Asante-Muhammad, chief of organizing, policy and equity at National Community Reinvestment Coalition, said in an interview. "What we want to see is substantial homeownership increases, long-term home value increases, income and maybe in 401(k)s and stocks."
Meanwhile, any progress seen during recent years could be unwound if the economy is tipped into a recession on the back of aggressive rate hikes.
"If we do have a recession this year, I think that's going to reverse some of it," Bryson said. "Historically, the gap between the Black and non-Black unemployment rate tends to rise as the economy enters recession."
Source: https://www.cnbc.com/2023/02/23/black-families-net-worth-has-grown-since-covid-but-wealth-gap-remains-wide.html
Related Posts