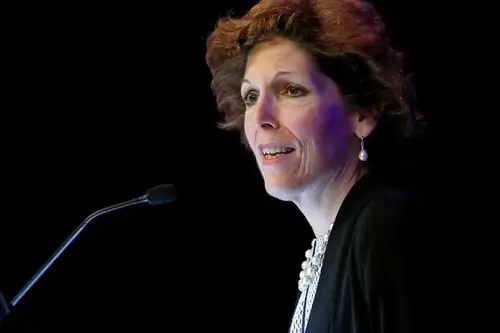 Fed's Mester says she has hope that inflation can be brought down without a recession
Cleveland Federal Reserve President and CEO Loretta Mester gives her keynote address at the 2014 Financial Stability Conference in Washington December 5, 2014.
Gary Cameron | Reuters
Cleveland Federal Reserve President Loretta Mester said Friday that interest rates likely need to keep moving higher to get inflation back to acceptable levels.
In a CNBC interview, Mester said she sees the central bank's benchmark interest rate having to rise above 5% and stay there for a while. The fed funds rate, which sets the level that banks charge each other for overnight borrowing but spills over into many forms of consumer debt, is currently in a target range of 4.5%-4.75%.
"I see that we're going to have to bring interest rates above 5%," she told CNBC's Steve Liesman during a "Squawk Box" interview. "We'll figure out how much above. That's going to depend on how the economy evolves over time. But I do think we have to be somewhat above 5% and hold there for a time in order to get inflation on a sustainable downward path to 2%."
Mester made news recently when she revealed that she was among a small group of Fed officials who, at the Jan. 31-Feb. 1 Federal Open Market Committee, wanted a half percentage point rate hike rather than the quarter-point move the panel approved.
Though she is a nonvoter this year on the rate-setting FOMC, she gets input into decisions. She said she's not sure yet whether she will push for a half-point increase when the committee meets again in March.
"I don't prejudge," she said. "That's a tactical decision that we make at the meeting."
Many economists expect the Fed won't be able to achieve its inflation goal without tipping the economy into a recession. GDP grew at a 2.7% in the fourth quarter of 2022 and is tracking at about a 2.5% rate in the first quarter of 2023, according to the Atlanta Fed.
Mester said she thinks that if the economy does contract, it won't be a severe downturn. She also expressed hope that the Fed can achieve its goal without crushing a labor market that has been surprisingly resilient despite all the rate increases.
"I do think that in this labor market, we can have both. We can have a healthy labor market and we can get back to price stability," she said. "But I also think it's really important to know that if we want to sustain healthy labor markets over time, we have to get back to price stability."
Mester was scheduled to speak later Friday at a monetary policy conference in New York.
Source: https://www.cnbc.com/2023/02/24/feds-mester-says-she-has-hope-that-inflation-can-be-brought-down-without-a-recession.html
Related Posts