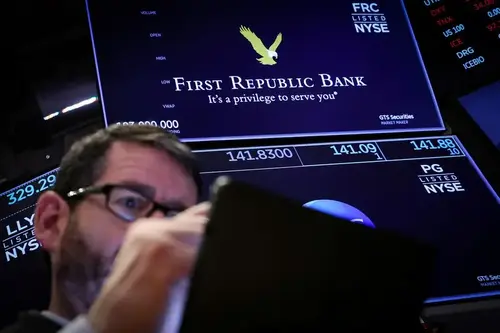 First Republic shares are sliding again Monday after a credit rating downgrade
A trader works at the post where First Republic Bank stock is traded on the floor of the New York Stock Exchange (NYSE) in New York City, March 16, 2023.
Brendan McDermid | Reuters
Shares of First Republic Bank, which have become the barometer of the regional bank crisis, slid once again Monday after Standard & Poor's cut the credit rating of the San Francisco-based institution.
S&P cut its credit rating to B+ from BB+ on Sunday after first lowering it to junk status just last week. The rating remains on CreditWatch Negative, said S&P.
The stock fell 15% in premarket trading Monday, adding to a decline of more than 80% already this month that came as the collapse of Silicon Valley Bank caused investors to rethink other banks with large uninsured deposit bases.
Despite First Republic's decline, the SPDR S&P Regional Banking ETF was slightly higher Monday, up 0.2% in premarket trading.
On Thursday, a group of major banks agreed to deposit $30 billion in First Republic to shore up confidence in regional banks. But the bank also suspended its dividend and said it had just about $34 billion in cash through March 15, not counting the new deposits.
"The deposit infusion from 11 U.S. banks, the company's disclosure that borrowings from the Fed range from $20 billion to $109 billion and borrowings from the Federal Home Loan Bank (FHLB) increased by $10 billion, and the suspension of its common stock dividend collectively lead us to the view that the bank was likely under high liquidity stress with substantial deposit outflows over the past week," stated S&P in its note Sunday.
UBS bought Credit Suisse over the weekend in a forced tie-up facilitated by Swiss regulators to stop the banking crisis from spreading globally. Credit Suisse executives noted that the U.S. regional bank crisis caused enough instability that forced the already shaky institution to merge with its rival.
This is a developing story. Check back for updates.
Source: https://www.cnbc.com/2023/03/20/first-republic-falls-sp-credit-rating-downgrade.html
Related Posts