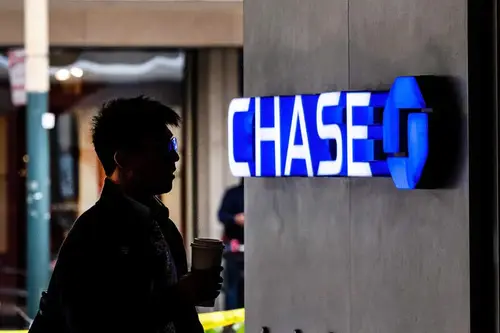 JPMorgan Chase buys data platform for startups in push to serve venture capital investors
Signage outside a Chase bank branch in San Francisco, California, on Monday, July 12, 2021.
David Paul Morris | Bloomberg | Getty Images
JPMorgan Chase is acquiring a data analytics provider for startup investors called Aumni, CNBC is first to report.
The biggest U.S. bank by assets is buying the five-year-old Utah-based company as part of a broader push to deepen relationships with venture capital investors and their companies, according to Michael Elanjian, who leads JPMorgan's digital private markets efforts.
While terms of the deal weren't disclosed, JPMorgan is paying roughly what the startup was valued for at its last fundraising in 2021, according to a source. Aumni was worth $232 million after that round, according to Pitchbook.
The deal is the latest in a string of fintech acquisitions made under CEO Jamie Dimon. Since 2020, JPMorgan has bought a half-dozen startups to bolster its capabilities in areas from payments to ESG investing. The company's technology investments have come under scrutiny recently amid the bank's rising expenses and an acrimonious legal dispute over a 2021 acquisition.
JPMorgan decided to buy Aumni after leading its 2021 investment round, said Elanjian. Founded in 2018 by Tony Lewis, a former corporate lawyer, Aumni is a data platform that helps users analyze and understand their holdings via a simple dashboard.
Most of the VC industry still uses Microsoft Excel or similar products to track investments in portfolio companies, which can make gleaning insights into their holdings difficult, said Lewis. That's because contracts underpinning a single equity round can exceed 600 pages of dense legal writing, he said.
"The moment you want to start performing any type of data-science inquiries into your existing investment activity, it becomes a really large undertaking to track down that information accurately, put it into Excel and perform the work," Lewis told CNBC over Zoom.
"This is a problem for anyone investing in any private alternative asset; it is based on a private contract, that's where your economics and legal rights reside," he added.
Investors leaned on Aumni in recent weeks after the collapse of Silicon Valley Bank sent shockwaves through the startup community, according to Lewis. Due to worries over uninsured deposits at midsized banks, VCs suddenly wanted to know where their portfolio companies banked, and whether they had legal rights to inspect their financial books, he said.
In other instances, VC investors can use Aumni to avoid errors tied to missing key details buried in legal documents.
The startup has data on almost 18,000 portfolio companies valued at $3.6 trillion, Lewis said. It charges an annual subscription fee based on assets under management and the number of companies tracked, he said.
The service will be integrated with JPMorgan's private markets platform Capital Connect, which came out of stealth mode last year, said Elanjian. It also complements the bank's acquisition last year of Global Shares, a software provider for managing employee stock plans.
The broader goal is to become the digital destination for VCs, startup founders and other investors to raise money, network and tap loans, he said. Capital Connect now has 200 employees and about 850 clients, he said.
"We want to be the end-to-end ecosystem provider to the venture community and the private markets,"  said Elanjian.
Source: https://www.cnbc.com/2023/03/22/jpmorgan-chase-buys-fintech-aumni-in-push-to-serve-venture-capital.html
Related Posts