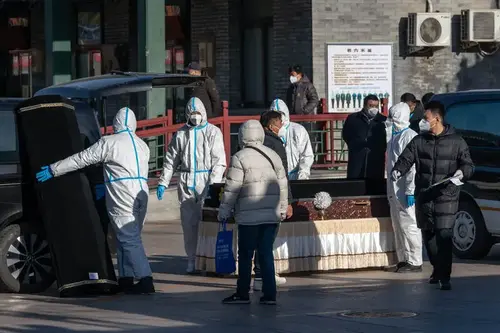 Shares of China-based funeral company are surging as Covid infections spike
Workers in protective gear handle a coffin and coffin case at Dongjiao Funeral Parlor, reportedly designated to handle Covid fatalities, in Beijing, China, on Monday, Dec. 19, 2022.
Bloomberg | Bloomberg | Getty Images
Hong Kong-listed shares of China's biggest cemeteries operator and funeral service rose to their highest level in more than a year as the country struggles with a wave of Covid infections.
Fu Shou Yuan International Group stock reached a 2022 high at 7.04 Hong Kong dollars a share as of Friday's close — having surged about 80% in two months – as the country abruptly ended most of its Covid control measures and saw case numbers surge.
Despite widespread reports of a spike in Covid deaths that's straining hospitals and funeral homes, China's official Covid death toll remains low. Health authorities there re-defined Covid deaths to include only people who die from pneumonia or respiratory failure — a contrast with most other countries, which count any death where Covid was a factor.
Separately, China's National Health Commission over Christmas weekend announced that it would halt the publication of daily infection numbers.
The stock had seen a continued decline from April 2021 into October, when China widely tightened its virus restrictions after concluding the National Party Congress with an ambiguous stance on the continuation of its zero-Covid policy.
Shares of Fu Shou Yuan International Group were nearly 40% for 2022 as of November, but they're now on pace for a 15% year-to-date gain.
The company, with a market cap of more than $2 billion, debuted in 2013 with backing from Carlyle Group and hedge fund firm Farallon Investors.
Carlyle co-founder William Conway had visited Fu Shou Yuan's main cemetery in Shanghai with a group of executives in December 2010 before agreeing to purchase $25 million worth of shares prior to the company going public.
Source: https://www.cnbc.com/2022/12/27/china-funeral-company.html
Related Posts