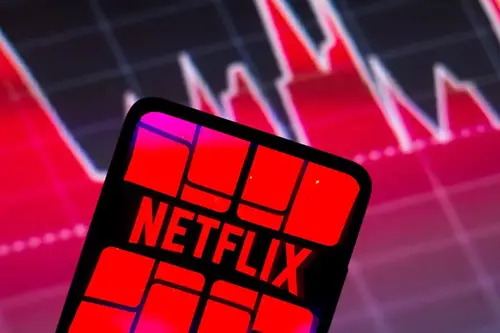 Stocks making the biggest moves after hours: Netflix, Nordstrom and more
In this photo illustration the Netflix logo seen displayed on a smartphone screen, with graphic representation of the stock market in the background.
Sopa Images | Lightrocket | Getty Images
Check out the companies making headlines in midday trading.
Netflix – Shares of Netflix jumped 6.3% after the company's per-share earnings came short of analysts' expectations. Nevertheless, the latest quarterly results showed the streaming service added millions more subscribers in the quarter than Wall Street anticipated. The company also announced that co-CEO Reed Hastings would step down from the role.
Nordstrom – Nordstrom shares fell 6.5% after the company cut its annual profit forecast for its fiscal year following weak holiday sales. The retailer reported that net sales for the holiday period slipped 3.5%, and that it now expects annual revenue growth at the lower end of the 5% to 7% range it previously gave.
Retail stocks – Following Nordstrom's weak holiday earnings report and year-end forecast, other retailers slumped. Macy's, Kohl's and Dillard's fell 2.5%, 4% and 1.3% respectively.
Costco – Shares of Costco rose 1.2% after the company said its board reauthorized a stock repurchase program of up to $4 billion through January 2027.
Source: https://www.cnbc.com/2023/01/19/stocks-making-the-biggest-moves-after-hours-netflix-nordstrom-and-more.html
Related Posts