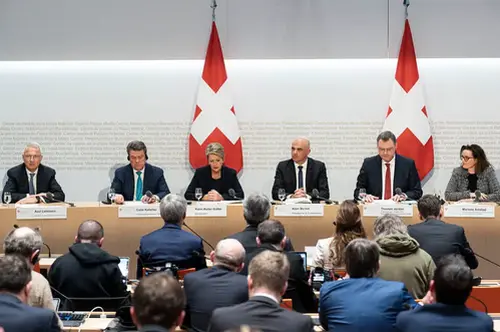 Swiss regulator says central bank loan to Credit Suisse justified AT1 bond writedown
Axel Lehmann, chairman of Credit Suisse Group AG, Colm Kelleher, chairman of UBS Group AG, Karin Keller-Sutter, Switzerland's finance minister, Alain Berset, Switzerland's president, Thomas Jordan, president of the Swiss National Bank (SNB), Marlene Amstad, chairperson of the Swiss Financial Market Supervisory Authority (FINMA), left to right, during a news conference in Bern, Switzerland, on Sunday, March 19, 2023.
Pascal Mora | Bloomberg | Getty Images
Swiss regulator FINMA on Thursday defended its decision to instruct Credit Suisse to write down its AT1 bonds — a controversial part of the lender's emergency sale to UBS — saying it was a "viability event."
The regulator said the loan Credit Suisse received from the Swiss National Bank last week, backed by the federal government, meant the conditions for a writedown had been met.
The regulator instructed Credit Suisse to write down 16 billion Swiss francs of AT1 bonds, widely regarded as relatively risky investments, to zero, while equity shareholders will receive payouts at the stock's takeover value.
This decision upended the usual European hierarchy of restitution in the event of a bank failure under the post-financial crisis Basel III framework, which ordinarily places AT1 bondholders above stock investors. Bondholders are exploring legal action over the contentious writedown.
"The AT1 instruments issued by Credit Suisse contractually provide that they will be completely written down in a 'viability event,' in particular if extraordinary government support is granted," FINMA said in a statement Thursday.
"As Credit Suisse received extraordinary liquidity assistance loans secured by a federal default guarantee on 19 March 2023, these contractual conditions were met for the AT1 instruments issued by the bank."
After its share price plunged to an all-time low last week, Credit Suisse announced that it had secured a loan of up to 50 billion Swiss francs from the Swiss National Bank, and provided substantial liquidity assistance to the lender, as authorities scrambled to put together a rescue deal on Sunday.
This is a breaking news story and will be updated shortly.
Source: https://www.cnbc.com/2023/03/23/swiss-regulator-says-central-bank-loan-to-credit-suisse-justified-at1-bond-writedown.html
Related Posts