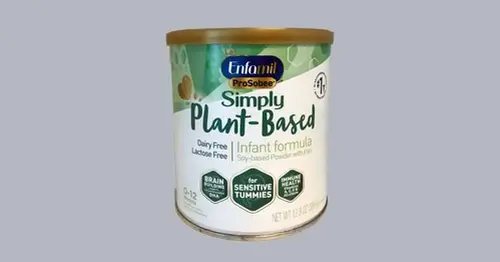 145,000 cans of Enfamil ProSobee baby formula recalled due to bacterial risk
Makers of a non-dairy baby formula issued a recall Sunday, fearing a bacterial contamination might have tainted up to 145,000 cans, the company and the U.S. Food and Drug Administration said.
Reckitt, best known for Lysol disinfectant and Air Wick air fresheners, said it's acting out of "an abundance of caution" by voluntarily recalling two batches of 12.9-ounce cans of "Enfamil ProSobee Simply Plant-Based Infant Formula."
The recall was ordered due to "a possibility of cross-contamination with Cronobacter sakazakii," the company said in statement.
Cronobacter sakazakii is a germ found naturally in the environment, the Centers for Disease Control and Prevention said, adding that it can live in powdered infant formula, powdered milk, herbal teas and starches. Getting sick from Cronobacter does not happen often, but infections in infants can be deadly, according to the CDC.
Reckitt said all distributed products "went through extensive testing and tested negative for the bacteria."
The 12.9-ounce cans of formula in question were manufactured between August and September of last year and were sent to stores across the United States, Guam, and Puerto Rico, officials said.
Targeted cans have the Universal Product Code of 300871214415 and an expiration date of March 1 of this year, officials said.
"No illnesses or adverse events have been reported," according to the company statement. "We are committed to the highest level of quality and safety and it is for this reason that we have taken this extraordinary measure."
Source: https://www.nbcnews.com/news/us-news/145000-cans-enfamil-prosobee-baby-formula-recalled-due-bacterial-risk-rcna71586
Related Posts