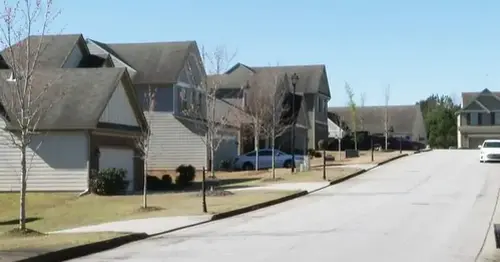 4 teens arrested on murder charges after Sweet 16 party shooting near Atlanta
Four teenagers are accused of murder after a shooting at a Sweet 16 party in an Atlanta suburb killed two and injured seven others.
Timothy Coleman Jr., 18, was arrested Tuesday along with 17-year-old twin brothers, Douglas County Sheriff Tim Pounds said during a news conference Wednesday. A fourth suspect, another 17-year-old, was arrested hours after the news conference.
NBC News is not naming the 17-year-old suspects because it is not clear if they will be charged as adults.
Investigators think the March 4 shooting in Douglasville was gang-related, but Pounds did not elaborate on evidence that officials believe connect the young adults with any groups.
"The folks that were hurt and killed were not the intended target," Pounds said. "They were innocent bystanders. This case is still very, very active."
County inmate records show all three suspects who were arrested Tuesday are being held without bond on a murder charge. Coleman has also been charged with multiple counts of aggravated assault and battery charges.
The fourth teen "will face the same charges," the sheriff's office said in a Facebook post Wednesday.
It's unclear if the teenagers have retained lawyers.
The district attorney's office declined to comment to NBC News' request for more information.
Additional charges may be filed in the case, the sheriff said.
Samuel Moon, 15, and AJ'anaye Hill, 14, were killed at the party. Moon was a 10th-grade student at Lithia Springs High School, and Hill was a freshman at Douglas County High School.
Moon's family described him to NBC affiliate WXIA as the "life" of their home.
"It feels like someone just took my heart and ripped it out," his mother, Beverly LeFleur, said.
Shots were fired at 10:41 p.m. after hosts of the Sweet 16 celebration decided to end the event, the sheriff's office has said. The party came to a close after it grew bigger than unexpected, with more than 100 teens in attendance and some guests smoking marijuana, officials have said.
Source: https://www.nbcnews.com/news/us-news/4-teens-arrested-murder-charges-sweet-16-party-shooting-atlanta-rcna75125
Related Posts