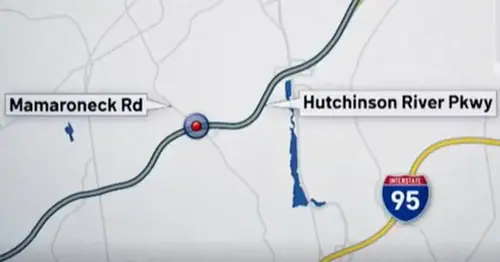 5 Connecticut children dead in fiery New York; boy, 9, survives
SCARSDALE, N.Y. — Five children from Connecticut, ranging in age from 8 to 17, were killed in a fiery crash on a New York highway, police said.
Police believe the vehicle was being driven by a 16-year-old boy when it veered off the Hutchinson River Parkway early Sunday in Scarsdale, hit a tree and caught fire. A 9-year-old boy, the sixth person in the Nissan Rogue, was the only survivor, according to a statement provided by Kieran O'Leary, spokesperson for the Westchester County Police Department.
The 9-year-old was "apparently riding in the rear hatchback/cargo area and escaped out the rear," according to the statement. The boy was taken to the hospital with injuries that were not life-threatening.
The five who were killed include four boys and a girl from Connecticut. Westchester County officials identified them as Malik Smith, 16; Anthony Billips Jr., 17; Zahnyiah Cross, 12; Shawnell Cross, 11; and Andrew Billips, 8, NBC Connecticut reported. Smith was the driver, according to the news station. The surviving boy's name was not released.
Matt Conway, the superintendent of schools in Derby, Connecticut, said he learned the children were part of a family that recently moved to the New Haven County community from New York but had not enrolled in the district. Conway said he reached out to the father on Sunday and offered to provide him information about available supports in the community for him and his family. He planned to talk with the father again on Monday.
"It's the unimaginable. Having to now make arrangements for five of your children to be buried is a very difficult thing for anyone — one child, never mind five that you're going to have to now make arrangements for," Conway said.
Source: https://www.nbcnews.com/news/us-news/5-connecticut-children-dead-fiery-new-york-boy-9-survives-rcna75719
Related Posts