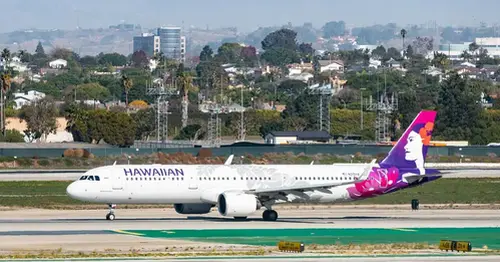 7 injured when Hawaiian Airlines flight hits turbulent skies on way to Sydney
HONOLULU — A Hawaiian Airlines flight from Honolulu to Sydney hit severe turbulence, injuring seven people on board.
The plane was carrying 163 passengers and 12 crew members on Thursday when it "encountered unexpected severe turbulence approximately five hours into the flight," said a statement from the airline.
Airport medics assessed and released three injured passengers when the flight landed in Sydney, the airline said Monday. One passenger and three flight attendants were "referred for further evaluation."
"Our immediate priority is to continue to care for our passengers and crew affected by this turbulence events, and we thank Sydney airport first responders for their swift assistance," the airline said.
Last year, severe turbulence injured 25 people on board a Hawaiian Airlines flight. Four passengers and two crew members were seriously hurt. The plane sustained minor damage.
The captain of the Dec. 18 flight from Phoenix to Honolulu told investigators that conditions were smooth with clear skies when a cloud shot up in front of the plane, and that there was no time to change course, according to a report by the National Transportation Safety Board.
Hawaiian Airlines Chief Operating Officer Jon Snook said at the time that such turbulence is unusual, noting that the airline had not experienced anything like it in recent history. The sign to fasten seat belts was on at the time, though some of the people injured were not wearing them, he said.
Source: https://www.nbcnews.com/news/us-news/7-injured-hawaiian-airlines-flight-hits-turbulent-skies-way-sydney-rcna92457
Related Posts