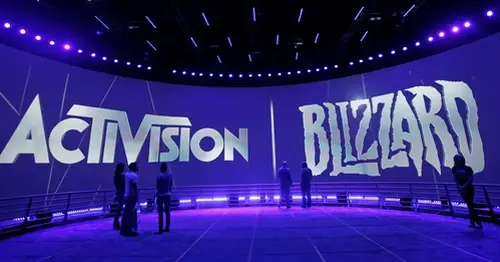 Activision Blizzard pays SEC $35 million to settle probe
Video game developer Activision Blizzard agreed to pay a $35 million settlement over charges it failed to maintain "adequate" workplace harassment reporting procedures and that it violated federal whistleblower protection rules, the Securities and Exchange Commission said Friday.
The SEC claimed workplace misconduct complaints were neither collected nor analyzed employee complaints as expected by public disclosure regulations. "Moreover, taking action to impede former employees from communicating directly with the Commission staff about a possible securities law violation is not only bad corporate governance, it is illegal," SEC director Jason Burt said.
The settlement is not an admission or denial of wrongdoing but concludes a probe that focused on Activision Blizzard's standards from 2018 to 2021.
Activision Blizzard CEO Bobby Kotick was aware of reports of alleged sexual misconduct at the company, including alleged rape, the Wall Street Journal reported in 2021.
Microsoft to buy video game giant Activision Blizzard for $68 billion
Jan. 18, 2022
01:02
"Mr. Kotick would not have been informed of every report of misconduct at every Activision Blizzard company, nor would he reasonably be expected to have been updated on all personnel issues," an Activision Blizzard spokesperson said at the time.
The SEC filing claimed Activision Blizzard required "a significant number" of departing employees who signed separation agreements to tell Activision Blizzard if regulators tried to contact them, or even if those employees wished to make a complaint of their own. Activision Blizzard's requirement that ex-employees notify the company violated federal whistleblower protections, the SEC claimed.
The SEC order did not explicitly mention Kotick or sexual harassment claims by some employees. Activision Blizzard had been under SEC investigation over the company's handling of sexual and personal harassment since 2021, the Wall Street Journal previously reported.
More from CNBC
Apple's long-term positives outweigh rare earnings miss, Morgan Stanley says
World's biggest pension fund posts loss in longest losing streak in two decades
Nordstrom stock surges after activist investor Ryan Cohen buys stake in retailer
Activision took steps from 2020 to 2022 to enhance procedures for handling employee complaints, the SEC order noted.
"As the order recognizes, we have enhanced our disclosure processes with regard to workplace reporting and updated our separation contract language," an Activision Blizzard spokesperson said on Friday.
The company settled an Equal Employment Opportunity Commission probe in Mar. 2022 for $18 million over related claims of retaliation in connection with sexual harassment claims.
Source: https://www.nbcnews.com/tech/tech-news/activision-blizzard-pays-sec-35-million-settle-probe-rcna69006
Related Posts