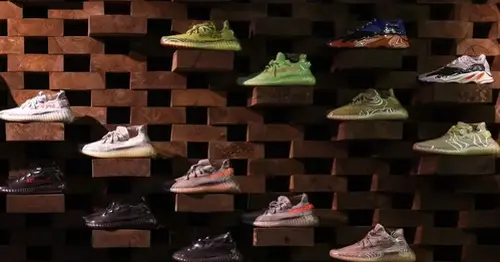 Adidas warns dropping Kanye West could cost it more than $1 billion
Adidas said Thursday that it is at risk of losing as much as 1 billion Euros — equivalent to $1.07 billion — in operating profits if it fails to successfully offload its inventory of Kanye West-designed Yeezy merchandise.
In its financial guidance for 2023, the Germany-based sneaker giant warned that the initial "adverse impact" from not selling the items would be €1.2 billion in revenues, or approximately $1.3 billion; and around €500 million, or $533 million, in operating profit.
Adidas dropped West, who now goes by Ye, in October over the rapper's racist and antisemitic remarks. Adidas had previously derived as much as 10% of its total annual revenues — approximately $2 billion — from its Yeezy line. It's one reason cited by analysts to explain why Adidas took longer to distance itself from the controversial musician than other brands after Ye made a series of hateful remarks about Jewish people, while also donning a "White Lives Matter" shirt.
Eventually, Adidas condemned Ye's language.
"Adidas does not tolerate antisemitism and any other sort of hate speech," the company said in a statement after announcing the termination of their relationship. "Ye's recent comments and actions have been unacceptable, hateful and dangerous, and they violate the company's values of diversity and inclusion, mutual respect and fairness."
Adidas cutting ties with Kanye West shows 'consequences to antisemitism,' Anti-Defamation League says
Oct. 25, 2022
02:33
Ye's remarks have cost him business deals with virtually all other major brands with which he'd previously had relationships, including Gap, Balenciaga, Footlocker and TJ Maxx.
But the impact to Adidas' bottom line looks to be the most significant. Although some analysts had forecast that Adidas would be able to repurpose the Yeezy inventory if it was stripped of the Yeezy label, Adidas also warned Friday that it could decide to not do so — something that would result in the company's operating profit falling by an additional €500 million, or $533 million.
The company expects one-off costs of as much as €200 million, or $213 million, no matter what, it said.
"The numbers speak for themselves. We are currently not performing the way we should," said Adidas CEO Bjørn Gulden in a statement. "2023 will be a year of transition to set the base to again be a growing and profitable company."
Source: https://www.nbcnews.com/business/business-news/adidas-warns-dropping-kanye-west-cost-1-billion-rcna70155
Related Posts