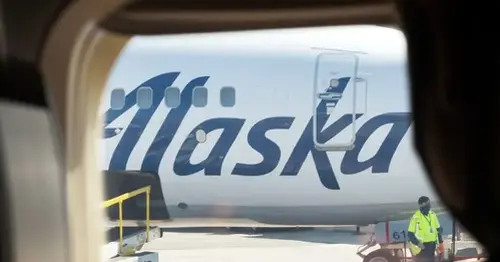 Alaska Airlines flight diverted after passenger makes 'direct threat' to plane's safety, officials say
An Alaska Airlines flight from Atlanta to Seattle was diverted to Spokane on Wednesday after a passenger made a "direct threat" to the aircraft's safety, prompting a temporary shutdown of the airport in Washington State, officials said.
Spokane International Airport was closed for over an hour after the Alaska Airlines plane made an emergency landing "following a security incident onboard the aircraft," a spokesperson for the airport said.
One person was taken into custody following the incident, the spokesperson said.
The Alaska Airlines flight landed at around 5:15 p.m. local time and passengers and flight crew were safely deplaned, the spokesperson said.
The airport shut down aviation operations during the incident, but they resumed again around 6:45 p.m., they said.
In a statement shared with NBC News affiliate KHQ, which is based in Spokane, Alaska Airlines said a male passenger onboard Flight 334 had "made a direct threat to the safety of our aircraft to one of our flight attendants."
"Consistent with security procedures, local and federal law enforcement were immediately notified and met the aircraft when it arrived," the airline said. It said the FBI was involved in the response. Alaska Airlines, the FBI, the Spokane Police Department and the Federal Aviation Administration did not immediately respond to overnight requests for comment.
Source: https://www.nbcnews.com/news/us-news/alaska-airlines-flight-diverted-passenger-makes-direct-threat-plane-rcna92808
Related Posts