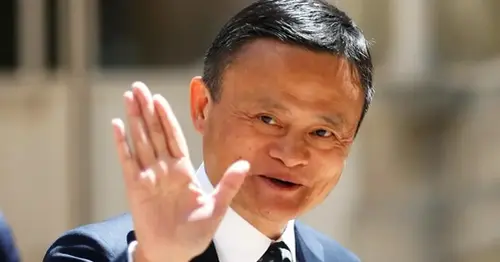 Alibaba founder Jack Ma is back in China after months abroad in a sign Beijing may be warming to tech
Alibaba founder Jack Ma has been spotted in China after spending months abroad in a potential sign that Beijing is warming to technology giants again after a roughly 18-month crackdown on the sector.
On Monday, Ma visited Yungu school in Hangzhou, the city where Alibaba is headquartered, to talk with teachers about how to provide education for children in the era of artificial intelligence, according to a WeChat post by the school.
The billionaire said technologies such as the popular ChatGPT have brought challenges to education, but artificial intelligence can be used to solve problems, according to the WeChat post.
It is the first time Ma has publicly appeared in China since last year. Ma has been traveling outside of China over the past few months and has been spotted in Spain, Japan and Thailand.
More from CNBC
U.S.-China relations are going downhill with 'no trust' on either side, Stephen Roach says
Asia is an area of certainty amid global volatility, says China's Boao Forum outlook
China's debt-heavy local governments look for new ways to raise cash
Ma's reappearance comes after an intense crackdown on his empire that began in late 2020 when Ant Group, the billionaire's financial technology firm, was forced to shelve its massive listing in Hong Kong and Shanghai. Ma made comments that appeared critical of China's financial regulator prior to the listing cancellation.
After that, Beijing tightened regulations on the domestic sector. Alibaba, the company Ma founded, was hit with a $2.6 billion antitrust fine in 2021.
Ant Group has been undergoing reform under the supervision of China's central bank to comply with regulations while Ma has been slowly giving up control of the fintech firm.
China's tightening of rules on the tech sector stoked investor fears that President Xi Jinping was turning against private enterprise and entrepreneurs.
But China has faced weak economic growth over the past year due to its now-scrapped "zero-Covid" policy. Beijing has meanwhile worked to reinvigorate the economy. Allowing Ma back into the fold could be a recognition from Beijing that it needs private businesses to do that.
"Economic growth back on track is probably the greatest political priority the [Communist] Party faces at the moment, and a more optimistic entrepreneurial class is key to this," Xin Sun, senior lecturer in Chinese and East Asian business at King's College London, told CNBC via email.
Sun said he suspects there was "some sort of deal" between Ma and the government for him to return and be seen in public.
"In so doing, the government intends to signal its warmth towards private sector and investors — if even Jack Ma is perceived as having been pardoned, everyone else should feel safe and welcome," Sun said.
Source: https://www.nbcnews.com/news/world/alibaba-founder-jack-ma-back-china-months-abroad-sign-beijing-may-warm-rcna76939
Related Posts