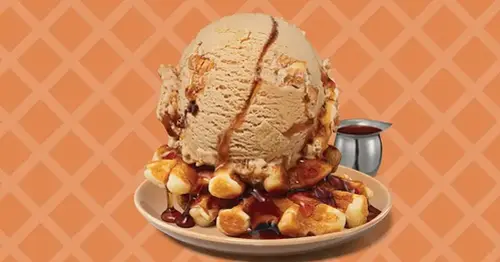 Baskin-Robbins is rolling out chicken and waffles flavored ice cream
Ice cream lovers: If you like a little savory with your sweet, Baskin-Robbins has a new flavor coming your way.
The ice cream purveyor is debuting what it calls Chick'n & Waffles as its latest flavor of the month.
According to a news release, the flavor features "buttermilk waffle flavored ice cream with plenty of crispy chick'n* and waffle flavored bites drizzled in a decadent bourbon maple syrup flavored swirl."
It doesn't contain any actual chicken, the company said. But the inspiration is fowl-focused.
"At Baskin-Robbins, we pride ourselves on bringing innovative flavors to market, which is why when we saw the growing popularity of Chicken & Waffles on menus, we knew we had to create a bold flavor that would change the way our guests enjoy Chick'n & Waffles," said Hannah Suits, director of brand marketing for Baskin-Robbins. "This flavor is a frozen twist on the iconic brunch dish, recreated in a deliciously deconstructed concept that is unique to our shops."
Source: https://www.nbcnews.com/business/consumer/baskin-robbins-chicken-waffles-flavored-ice-cream-flavor-of-the-month-rcna73246
Related Posts