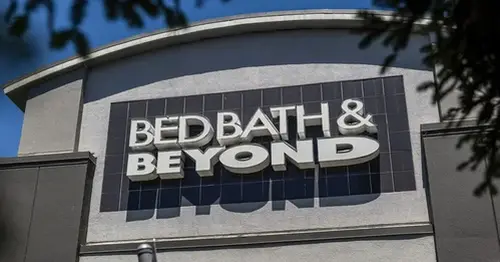 Bed Bath & Beyond begins new round of layoffs as threat of bankruptcy looms
Fresh off telling investors last week that it may consider a bankruptcy filing, Bed Bath & Beyond has kicked off a fresh round of layoffs.
The company said in a statement Tuesday that it would be "necessary to right-size" the company as it seeks to turn its business around.
"Unfortunately, this has necessitated making the difficult decision to say goodbye to some of our colleagues," it said.  
Bed Bath & Beyond quarterly losses bigger than expected
Jan. 10, 2023
01:23
CNBC was first to report the layoffs after it obtained a company memo that told employees that the cuts would be "across our corporate, supply chain and store portfolio." It did not give an exact number of layoffs.
Bed Bath & Beyond is also eliminating the role of chief transformation officer, CNBC reported.
Last Thursday, Bed Bath & Beyond issued a "going concern" warning as it faced the prospect of a critical cash shortfall. It said it would seek to address the crunch it by exploring options, including a Chapter 11 bankruptcy filing.
Doing so would bookend a tumultuous post-pandemic period for the company that got it get caught up in the meme-stock frenzy, in which day traders and other amateur investors speculated on ostensibly troubled companies' turning around. In the case of Bed Bath & Beyond, after they hit a pandemic low of about $4 in April 2020, company shares spiraled upward to as much as $35 in summer 2021.
Today, the company's shares are worth about $2.
Bed Bath & Beyond has also faced tragedy in the death of its chief financial officer, Gustavo Arnal, in September, which was ruled a suicide.
Source: https://www.nbcnews.com/business/business-news/bed-bath-new-layoffs-as-potential-bankruptcy-looms-rcna65140
Related Posts