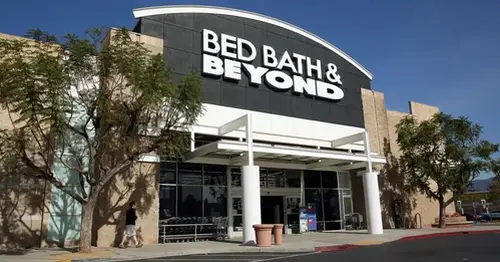 Bed Bath & Beyond shares plummet after company warns of potential bankruptcy
Bed Bath & Beyond warned Thursday it's running out of cash and is considering bankruptcy.
The retailer, citing worse-than-expected sales, issued a "going concern" warning that in the upcoming months it likely will not have the cash to cover expenses, such as lease agreements or payments to suppliers. The company said it is exploring financial options in addition to a potential bankruptcy.
Shares of the company plummeted by 17% in premarket trading after Bed Bath issued the updates in a pair of financial filings.
Among its challenges, Bed Bath said it is having trouble getting enough merchandise to fill its shelves and is drawing fewer customers to its stores and website.
The retailer also said that it wasn't able to refinance a portion of its debt, less than a month after notifying investors it planned to raise new debt in order to pay off chunks of existing debt.
Bed, Bath & Beyond to close 150 stores, slash part of workforce
Sept. 1, 2022
00:23
Bed Bath's debt load has been weighing on the company. The retailer has nearly $1.2 billion in unsecured notes, which have maturity dates spread across 2024, 2034 and 2044. In recent quarters, Bed Bath has warned it's been quickly burning through cash.
Bed Bath's notes have all been trading below par, a sign of financial distress. 
Bed Bath has been through an especially tumultuous stretch, with the departure of its CEO and other top executives, company-wide layoffs, store closures and an overhaul of its merchandise strategy. As sales declined, its CEO Mark Tritton got pushed out in June. Sue Gove, who stepped in as interim CEO, has assumed the role permanently.
She laid out a comeback strategy in late August. As part of the plan, she said the company would cut costs by shrinking its store footprint and workforce. She said it would add back more items from popular national brands, as it shifted away from an aggressive private label strategy. And she said it had secured more than $500 million in new financing to help steady the business.
The company said during its last earnings report it believed it had enough liquidity to forge ahead.
In a news release on Thursday, Gove said recent sales results illustrate why that turnaround plan is so important.
"Transforming an organization of our size and scale requires time, and we anticipate that each coming quarter will build on our progress," she said.
More from CNBC
Private payroll growth surged by 235,000 in December, well above estimate, ADP reports
Online holiday sales jump by 3.5% as discounts persuade deal-hungry shoppers
Walgreens tops estimates as early flu season helps drive sales
So far, Bed Bath has not seen sales trends change. Net sales in the fiscal third quarter, which ended Nov. 26, are expected to be about $1.26 billion — a sharp drop from $1.88 billion in the year-ago period, the company said.
It anticipates a net loss of about $385.8 million for the third quarter, a nearly 40% jump in losses year over year. The quarterly losses include an approximately $100 million impairment charge, which was not specified.
Source: https://www.nbcnews.com/business/corporations/bed-bath-shares-plummet-company-warns-potential-bankruptcy-rcna64404
Related Posts