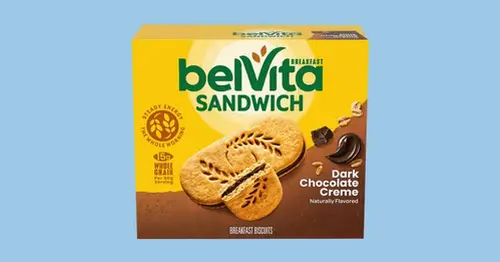 BelVita breakfast sandwiches recalled for possible peanut contamination
BelVita breakfast sandwiches were recalled due to possible peanut contamination, the company said, noting that there have been reports of allergic reactions to the biscuits.
Mondelēz Global LLC became aware of the issue during an internal manufacturing inspection that found the potential presence of peanut protein residue on the line used to make the sandwiches, according to a Monday statement.
"There have been three unconfirmed reports of possible allergic reaction to date related to these products," the company said.
It warned that people who have severe sensitivity or an allergy to peanuts "may risk serious or life-threatening allergic reactions by consuming these products."
The recall affects two varieties of sandwiches, the belVita Breakfast Sandwich Dark Chocolate Creme and belVita Breakfast Sandwich Cinnamon Brown Sugar with Vanilla Creme. They are manufactured in the United States and sold nationwide.
Source: https://www.nbcnews.com/health/health-news/belvita-breakfast-sandwiches-recalled-possible-peanut-contamination-rcna92616
Related Posts