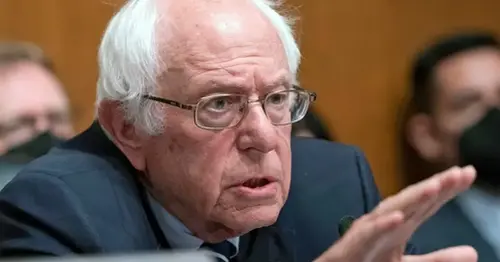 Bernie Sanders announces investigation into Amazon's safety record
Sen. Bernie Sanders, I-Vt., announced an investigation Tuesday into what he called Amazon's "abysmal safety record" amid broader scrutiny of the company's labor practices.
"Amazon is one of the most valuable companies in the world owned by Jeff Bezos, one of the richest men in the world," Sanders, a frequent Amazon critic, said on Twitter. "Amazon should be the safest place in America to work, not one of the most dangerous."
Sanders, who chairs the Health, Education, Labor and Pensions Committee, alerted Amazon CEO Andy Jassy of the investigation in a 10-page letter, which called the conditions at the company's warehouses "dangerous and illegal." The letter alleged that Amazon's warehouses are "uniquely dangerous" because of physically demanding work and "aggressive productivity goals." The letter also alleges that on-site medical clinics "undertreat and underreport" employees' injuries.
"Amazon must stop pushing workers past their limits and discarding them when they are no longer useful," Sanders wrote. "In its endless pursuit of profits, Amazon sacrifices workers' bodies under the constant pressure of a surveillance system that enforces impossible rates."
Asked by a reporter Tuesday whether everything is on the table for Amazon, including a subpoena, Sanders replied, "Yes."
Sanders' letter said the Occupational Safety and Health Administration issued Amazon "at least 50 citations for violating workplace health and safety laws"; the company says it has appealed all of the citations. Amazon also said that it has invited Sanders to tour a facility and that the invitation remains open.
In an emailed statement, Amazon spokesperson Steve Kelly said that the company has reviewed Sanders' letter and that company officials "strongly disagree with Senator Sanders' assertions."
"We take the safety and health of our employees very seriously," Kelly said in an earlier emailed statement. "There will always be ways to improve, but we're proud of the progress we've made which includes a 23% reduction in recordable injuries across our U.S. operations since 2019. We've invested more than $1 billion into safety initiatives, projects, and programs in the last four years, and we'll continue investing and inventing in this area because nothing is more important than our employees' safety."
A company report also indicated that the recordable incident rate improved by 11% from 2021 to 2022 and by more than twice that from 2019 to 2022.
Source: https://www.nbcnews.com/politics/congress/bernie-sanders-announces-investigation-amazons-safety-record-rcna90223
Related Posts