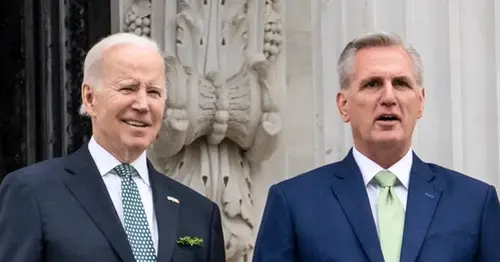 Biden and McCarthy aides hold late-night debt ceiling talks
A team of White House negotiators met with aides of House Speaker Kevin McCarthy at the Capitol on Tuesday night in an effort to hammer out a deal to raise the debt ceiling ahead of a potential default, two sources familiar with the discussion said. 
Earlier in the day, the White House had designated a team of aides to represent President Joe Biden in the talks. Louisa Terrell, director of the Office of Legislative Affairs, Shalanda Young, director of the Office of Management and Budget, and Steve Ricchetti, a close adviser to the president, will negotiate with House GOP aides and Rep. Garret Graves, R-La.
The new phase in negotiations builds on "direct and productive" discussions in the week prior, a White House official said. In a Tuesday afternoon meeting, White House and congressional leaders recognized that a finished budget would need to pass Congress with bipartisan support in order to make it to Biden's desk, the official added.
As they left that meeting, congressional leaders hinted at some progress. McCarthy, R-Calif., said that the sides remain "far apart" but that "it is possible to get a deal by the end of the week."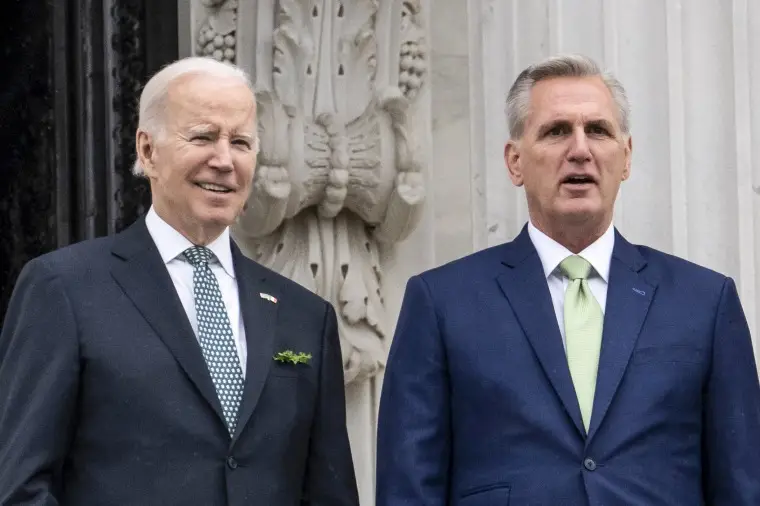 The White House announced Tuesday that Biden would cut a trip to Asia short, skipping a visit to Australia and Papua New Guinea and returning to the U.S. on Sunday. He is set to attend a summit of the Group of Seven major industrial countries in Japan, but wants to speak with congressional leaders by phone later this week, according to the White House official. His top aides will be in regular contact with him while he is in Japan, the official added.
Treasury Secretary Janet Yellen has warned that the U.S. could breach its debt ceiling as early as June 1. If lawmakers fail to reach an agreement to lift the borrowing limit, it could prove catastrophic for the U.S. and global economy.
Staff have identified some potential areas of agreement, including an overhaul of permitting for energy and infrastructure projects and the possibility of negotiating spending cuts while simultaneously working to raise the debt ceiling.
But the talks have been snarled by disagreements over whether to toughen work requirements for federal aid programs. The debt ceiling bill that House Republicans passed last month would expand work requirements for some federal aid programs, including Medicaid and the Supplemental Nutrition Assistance Program, or SNAP, a program that provides grocery aid.
McCarthy, for his part, has said a deal needs to include tougher work requirements, which he called a red line for him. The House bill was negotiated within the GOP caucus and narrowly passed along party lines. Several Democrats have said the idea is a nonstarter for them. Biden showed a tentative openness to some new work requirements, but the White House now says the president is "fighting" to make sure they won't be in the final deal.
"The policies House Republicans are proposing would take away Americans' health care and increase poverty," White House spokesperson Michael Kikukawa said in a statement to NBC News. "Republicans couldn't pass them into law when they had unified control of government — and the President is fighting to ensure they will not be in a bipartisan budget agreement,"
On Wednesday, House Democrats are beginning an emergency effort to force a vote on a debt ceiling increase with a "discharge petition" that will be filed by Budget Committee ranking member Brendan Boyle, D-Pa., Minority Leader Hakeem Jeffries, D-N.Y., wrote in a letter to colleagues. Jeffries urged his Democratic colleagues to add their names to the discharge petition once it is filed.
For the petition to succeed, 218 representatives would need to sign on, meaning at least five Republicans would have to join all Democrats in supporting the measure.
Rep. Tom Cole, R-Okla., chair of the House Rules Committee, called the discharge petition a "Hail Mary" that "will not succeed," as any Republican supporters would risk losing their primaries over the move.
"The people they're trying to get are the people that are McCarthy's most loyal supporters, who've hung with him through all of these fights — all 15 ballots," Cole said.
Source: https://www.nbcnews.com/politics/congress/nod-urgency-aides-biden-mccarthy-hold-late-night-debt-ceiling-talks-rcna84836
Related Posts