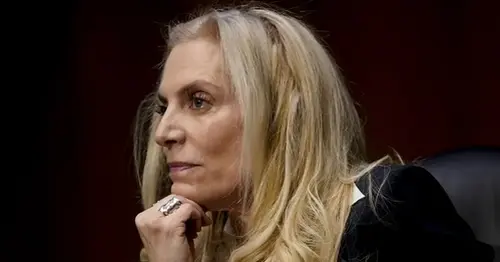 Biden announces new economic team led by the Fed's Lael Brainard
President Joe Biden shuffled his economic team Tuesday, naming Lael Brainard of the Federal Reserve as his top adviser on inflation and the broader economy.
Brainard was named director of the National Economic Council shortly after the White House announced that Brian Deese would step down from the position, which he has held since Biden took office.
Brainard has been a member of the Fed's Board of Governors since 2014; last year she became vice chair.
In her new role, which doesn't require Senate confirmation, Brainard will be tasked with helping Biden implement key elements of his economic agenda, which in his first two years as president included pandemic relief, infrastructure, computer chip manufacturing and tax, climate and health care bills.
She's also likely to be involved in the White House's discussion with House Speaker Kevin McCarthy, R-Calif., over the debt ceiling, with Republican lawmakers pressing for possible spending cuts.
Biden accuses some Republicans of wanting to 'take the economy hostage'
Feb. 8, 2023
03:48
Brainard came close to serving in the Biden administration when her name was floated in 2020 as a possible treasury secretary as he assembled his Cabinet. Biden instead nominated Janet Yellen.
Biden praised Brainard in a statement Tuesday for her "extraordinary depth of domestic and international economic expertise," highlighting her work at the Council of Economic Advisers, the National Economic Council and the Treasury Department.
"She is a trusted veteran across our economic institutions, and understands how the economy affects everyday people," Biden said.
The White House also said Biden plans to nominate Jared Bernstein to be chair of the Council of Economic Advisers, which would require Senate approval. Cecilia Rouse, the current head of the council, confirmed to MSNBC'S José Díaz-Balart on Tuesday that she is leaving her post and returning to teaching at Princeton University in the spring. Reuters first reported her departure.
The personnel announcements come amid a mixed economic picture. While Biden has touted historically low unemployment that fell to 3.4% in January, the nation's lowest since 1969, he faces continued GOP criticism over inflation.
Source: https://www.nbcnews.com/politics/white-house/biden-announces-new-economic-team-led-feds-lael-brainard-rcna70679
Related Posts