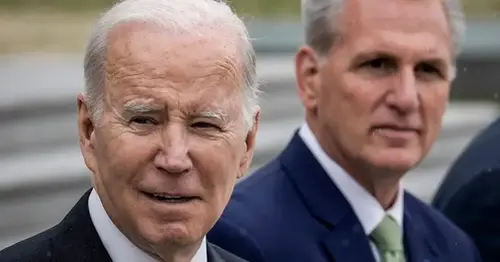 Biden fires at 'MAGA' GOP economic vision amid debt ceiling stalemate
WASHINGTON — President Joe Biden denounced "MAGA Republicans in Congress" on Wednesday in a speech contrasting his economic agenda with the GOP's in an escalating standoff over the debt ceiling.
"You and the American people should know about the competing economic visions of the country that are really at stake right now," Biden said at a union training facility in the Washington suburb of Accokeek, Maryland. "Just two days ago, the speaker of the House, Kevin McCarthy, went to Wall Street to drive home the MAGA economic vision for America.
"He proposed huge cuts in ... programs that millions of hard-working and middle-class Americans count on," Biden said, calling McCarthy's agenda "the same old trickle-down dressed up in MAGA clothing."
Biden has sharpened his criticism of McCarthy and House Republicans' economic plans as tensions over the debt limit grow and Biden eyes an expected re-election announcement. The White House has accused McCarthy of failing to make a counteroffer to the president's budget, risking the country's faith and credit in the process.
"America is not a deadbeat nation. We meet our obligations. … No one should do anything to jeopardize the full faith and credit of the United States of America," Biden said Wednesday. "They say we're going to default unless I agree to all these wacko notions of theirs."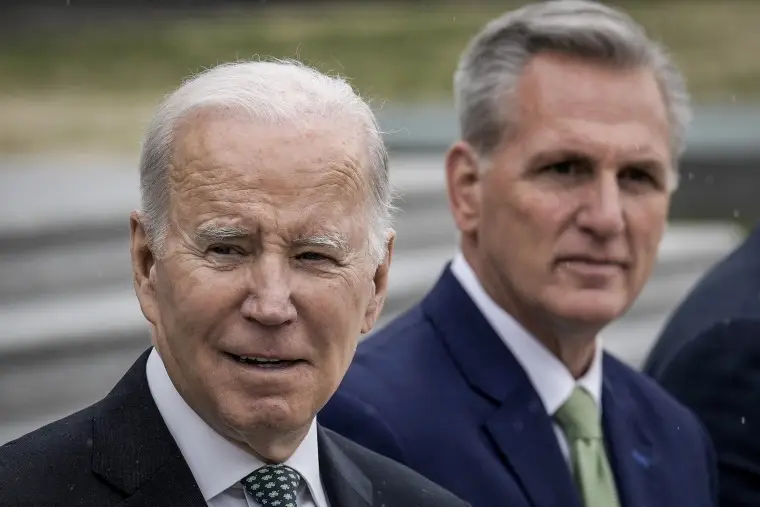 Biden said McCarthy delivered "a speech without a plan" in New York. McCarthy talks about "limiting spending," Biden said, but "what he didn't say, he didn't tell you exactly how much he wants to cut."
In criticizing House Republicans, Biden invoked Donald Trump's debt ceiling negotiation tactics when he was president, and he cited Trump's objections to using the debt limit to extract political concessions.
"'I can't imagine anybody ever even thinking about using the debt ceiling as a negotiating wedge,'" Biden said, quoting Trump. "I guess he didn't know the new MAGA Republicans he bred."
Biden called on House Republicans to "take default off the table and let's have a real serious conversation."
The White House has accused House Republicans of threatening to "kill" thousands of manufacturing jobs as GOP lawmakers eye cuts to Biden's infrastructure law and other legislation to pass a spending bill. 
Biden's remarks follow a call Tuesday with Senate Majority Leader Chuck Schumer and House Minority Leader Hakeem Jeffries, both D-N.Y., in which the Democrats said they would stand firm on Biden's stance not to negotiate over the debt limit.
"President Biden, Leader Schumer, and Leader Jeffries agree that we won't negotiate over default and Republicans should pass a clean bill like they did three times in the previous administration," according to a readout of the call shared by the White House.
Source: https://www.nbcnews.com/politics/white-house/biden-fires-maga-gop-economic-vision-debt-ceiling-stalemate-rcna80506
Related Posts