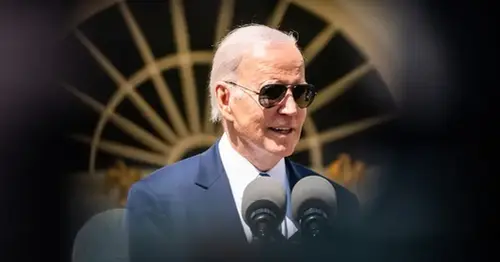 Biden gets support for debt ceiling fight from super PACs
WASHINGTON — Outside Democratic groups are coming to President Joe Biden's defense in his standoff with House Republicans over the debt ceiling, pressuring vulnerable lawmakers ahead of a bipartisan meeting to discuss the nation's finances.
House Speaker Kevin McCarthy, R-Calif., will meet with Biden next week to push for spending cuts and other concessions the GOP wants in exchange for raising the statutory debt limit, but the White House continues to insist it won't negotiate over the nation's debt. In addition, the White House argues, the cuts Republicans want would be devastating to the economy. 
House Republicans passed a bill to raise the debt limit and make corresponding spending cuts — but didn't detail what any of those cuts would be and instead left them open to future negotiations. The maneuver may give them plausible deniability on any specific criticism, but that hasn't stopped Democrats, who insist the only way to meet GOP demands for reductions would be to make drastic cuts from the Border Patrol to health care and veterans services.
That has created a political opening, Democrats say.
"Speaker McCarthy and MAGA Republicans are so extreme, they are ready to drive middle-class costs up so they can slash education, clean air and water, and even cancer research," Abby Curran Horrell, the executive director of House Majority Forward, the nonprofit arm of Democrats' main House-focused super PAC, said in a message to NBC News.
Sen. Tester calls debt ceiling bill that cleared the House 'not realistic'
May 4, 2023
09:51
The group has been placing billboards, conducting polls and running digital and TV ads in battleground House districts since February as part of a six-figure campaign on the debt standoff. The messages include ransom note-style messages that say Republicans want to "hold our economy hostage to cut Social Security and Medicare."
Other progressive outside groups, like the League of Conservation Voters, Courage for America and Protect Our Care, have launched their own ad campaigns targeting vulnerable House Republicans for perpetuating "the Republican default crisis," claiming the GOP plan would kill clean energy jobs, cut law enforcement and eliminate health care for many Americans to reduce taxes on the wealthy. 
Meanwhile, Accountable.US launched mobile billboard ads in five moderate congressional districts claiming the GOP plan would cut 13,000 law enforcement and Border Patrol officers. 
And Social Security Works, which promotes and defends the retirement program, purchased a billboard attacking Rep. David Valadao, R-Calif. — a perennial top target of Democrats — for using the debt crisis, it claims, to try to cut veterans and Social Security benefits. 
Republicans have said Democrats are mischaracterizing their plans, but the details are yet to be determined. 
Even groups that typically wait until election years to spend big are gearing up now.
Priorities USA, Democrats' flagship presidential super PAC, said it will use part of its previously announced $75 million spending goal for the 2024 cycle on the debt ceiling fight, because it fits with its plan to contrast "Biden's steady leadership with the chaos that defines the GOP." 
Source: https://www.nbcnews.com/politics/white-house/biden-gets-support-debt-ceiling-fight-super-pacs-rcna82767
Related Posts