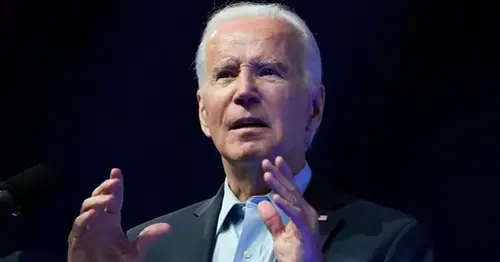 Biden meets with AI experts in effort to manage its risks
President Joe Biden met with artificial intelligence experts in San Francisco on Tuesday as part of his administration's efforts to manage the risks posed by AI.
In brief remarks to reporters before the closed-door meeting, Biden said he wanted to hear from the world's leading experts on the technology, which he said poses "enormous promise" and "risks."
"As I've said before, we will see more technological change in the next 10 years than we've seen in the last 50 years and maybe beyond that," Biden said before the event, which included Democratic Gov. Gavin Newsom of California and experts who the White House said recognize both AI's potential risks and its benefits.
"My administration is committed to safeguarding America's rights and safety, from protecting privacy to addressing bias and disinformation to making sure AI systems are safe before they are released," Biden said.
He also argued that social media has shown the harm powerful technology can do without safeguards, noting that he asked Congress in his State of the Union address to pass bipartisan legislation "to put strict limits on personal data collection, ban targeting and advertising to our children and require companies to put health and safety first."
Vice President Kamala Harris will convene civil rights leaders and consumer protection groups next month to discuss the rise of AI, Biden said Tuesday.
In May, Harris hosted the leaders of several companies developing artificial intelligence products at the White House — including Google and Microsoft — and the administration unveiled a $140 million investment in seven new AI research centers.
The Biden administration last year released a framework to mitigate threats posed by AI, and in February, Biden signed an executive order directing federal agencies to root out bias and promote equity in the design and use of new technologies, including AI.
"AI is a top priority for the President and his team," a White House official said in a statement Tuesday.
The use of artificial intelligence has exploded in popularity. ChatGPT, an AI chatbot, has become a global sensation: It has passed an MBA final exam, raised concerns about academic cheating and helped people craft emails to their co-workers and loved ones.
But ChatGPT's ascent has also brought concerns over the development of artificial intelligence to the fore, prompting Congress to scramble to understand and regulate the nascent technology.
Biden, citing AI experts he said he had met with, warned in a commencement speech this month that AI could "overtake human thinking" and "change the character" of future wars.
Source: https://www.nbcnews.com/politics/joe-biden/biden-meets-ai-experts-effort-manage-risks-rcna90136
Related Posts