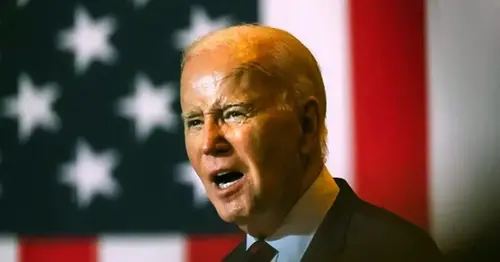 Biden orders U.S. investment restrictions on some Chinese industries
President Joe Biden signed an executive order Wednesday that would restrict U.S. investment in some high-tech industries in China.
The narrow and targeted order focuses on sectors such as quantum computing, artificial intelligence and advanced semiconductors and comes amid growing tensions with China.
The executive order, first reported by The New York Times, declares a national emergency to address China's "rapid advancement" in technologies and products that are critical for the military, intelligence, surveillance, or cyber-enabled capabilities.
Strides by China in these areas constitute "an unusual and extraordinary threat to the national security of the United States" and certain U.S. investments "risk exacerbating this threat," the order said.
The order directs the Treasury secretary to consult with the Commerce secretary and heads of other relevant agencies to issue regulations on barred transactions and reporting on certain other transactions with China, the world's second-largest economy.
The Chinese Commerce Ministry said Thursday that it was "seriously concerned" about the order and that it reserved the right to take measures.
"This seriously deviates from the market economy and fair competition principles that the U.S. has always advocated," the ministry said in a statement. "It affects the normal operation and decision-making of enterprises and undermines the international economic and trade order."
House Foreign Affairs Chairman Michael McCaul, R-Texas, said he was pleased to see some restrictions, but suggested more "aggressive action" was needed.
"The failure to include existing technology investments as well as sectors like biotechnology and energy is concerning," McCaul said in a statement that criticized "appeasing industry at the cost of national security."
Rep. Raja Krishnamoorthi of Illinois, the top Democrat on the House Select Committee on the Chinese Communist Party, said in a statement that Biden's announcement was "an essential step forward," but additional action was needed.
"The threats we face are not static, and our actions need to be dynamic and coordinated with allies and partners to ensure we are building a lasting security for the American people."
NBC News reported in June that the Biden administration had been "slow walking" certain punitive economic measures against China, including the executive order, as U.S. officials have sought to repair relations with China. An administration official said at the time that some "policy components" of the executive order still needed to be worked through.
The Biden administration rattled Beijing in October when it imposed export controls designed to block China's access to sophisticated chipmaking tools that Washington said could be used by the Chinese military.
The administration was expected to follow up with more restrictions on U.S.-made semiconductor technology, including a new executive order on any American investment linked to China's defense industry.
Biden administration officials, however, have denied delaying actions against China in the interest of national security. Officials have stressed that they've continued to impose sanctions on Chinese organizations as well as operate military aircraft and naval ships in the region. They have also emphasized that the U.S. has taken targeted, not broad, actions against Beijing in recent months.
Treasury Secretary Janet Yellen defended U.S. actions to protect national security interests in remarks last month during her meeting with Chinese Premier Li Qiang.
"The United States will, in certain circumstances, need to pursue targeted actions to protect its national security," Yellen said during her trip to China. "And we may disagree in these instances."
White House national security adviser Jake Sullivan said in April that the U.S. has implemented "carefully tailored restrictions on the most advanced semiconductor technology exports" to China.
"Those restrictions are premised on straightforward national security concerns. Key allies and partners have followed suit, consistent with their own security concerns," Sullivan said in remarks at the Brookings Institution.
Source: https://www.nbcnews.com/politics/white-house/biden-issue-us-investment-restrictions-industries-china-rcna98957
Related Posts