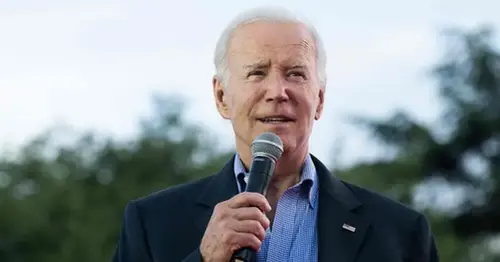 Biden touts clean energy investments in S.C. amid 'Bidenomics' push
President Joe Biden touted his economic agenda in a speech in South Carolina on Thursday afternoon, praising his administration's investments in the country through what he has termed "Bidenomics" and emphasizing the importance of infrastructure.
"How can you have the best economy in the world and not have the best infrastructure in the world?" Biden said.
He added that under his predecessor, infrastructure week became a "punchline."
"On my watch, we're making infrastructure a decade headline," Biden said.
Biden discussed jobs created by a partnership between Enphase Energy, a supplier of solar energy equipment, and Flex, a manufacturer. Enphase announced it is investing more than $60 million to open six manufacturing lines in the U.S., which is expected to create up to 1,800 jobs; two of the new lines will be in South Carolina, with the potential to add up to 600 jobs between Enphase and Flex, the White House said.
Companies have "committed over $500 billion in manufacturing and clean energy investments in the United States" since the start of Biden's term, the White House said in a news release Wednesday.
Biden said Bidenomics is "rooted in what always worked best for this country: investing in America. Because when you invest in our people, when you strengthen the middle class, we see stronger economic growth that benefits everybody."
Biden spoke at Flex's facility in West Columbia as administration officials traverse the country this week to highlight the administration's investments in the country as part of his economic plan.
"I'm not here to declare victory on the economy," Biden said. "I'm here to say we have a plan that is turning things around quickly." 
White House Communications Director Ben LaBolt said in a statement before the speech: "You aren't done hearing about Bidenomics. Following his major address in Chicago, the President, Vice President, Cabinet members, and senior Administration officials will continue to make a full-court press on Bidenomics this week — highlighting how the President's economic plan is investing in America and increasing competition to lower costs for hardworking families."
Biden has attributed recent job growth and reductions in inflation to legislation passed during his tenure, including an infrastructure package and a major climate, health care and tax bill called the Inflation Reduction Act, which the White House says has mobilized companies like Enphase to begin clean energy manufacturing operations in the U.S.
The White House has described Bidenomics as a three-pillar plan that centers on public investments, educating workers and promoting competition to lower costs. The administration frequently characterizes the plan as building the economy "from the middle out and the bottom up," rather than through trickle-down economics.
But the word "Bidenomics" has become a target for conservative politicians, some of whom have used it as a catchall for economic woes.
"Bidenomics is when you attempt to bankrupt small businesses, driving up inflation to a 40-year high while pushing up interest rates to make capital inaccessible to Main Street," said a graphic tweeted by the GOP-controlled House Small Business Committee.
GOP presidential candidate Nikki Haley tweeted Thursday morning, "Bidenomics brought record-breaking inflation and wiped out people's savings."
As part of the administration's push to highlight Biden's economic policies Thursday, Interior Secretary Deb Haaland planned to be in New York to highlight clean energy efforts, Health and Human Services Secretary Xavier Becerra was going to Ohio to emphasize efforts to lower health care costs, and Small Business Administration head Isabella Guzman was traveling to California to talk about small-business starts, a White House official said. Administration officials have more events planned for Friday in Vermont, Michigan, Washington and New Mexico.
Biden touted his economic agenda in a speech in Chicago last week.
Source: https://www.nbcnews.com/politics/joe-biden/biden-announce-clean-energy-manufacturing-investment-south-carolina-rcna92862
Related Posts