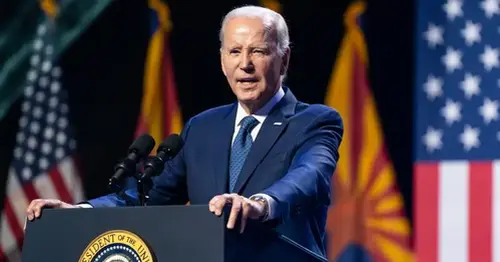 Biden touts efforts to ease student debt, including $9B more in loan forgiveness
President Joe Biden on Wednesday touted his administration's efforts to address student debt, including an additional $9 billion in relief that the White House announced.
The additional relief, set to help about 125,000 Americans, brings the Biden administration's total approved debt cancellation to $127 billion for nearly 3.6 million Americans, Biden said in remarks at the White House.
"This kind of relief is life-changing for individuals and their families, but it's good for our economy as a whole as well. By freeing millions of Americans from the crushing burden of student debt, it means they can go and get their lives in order," Biden said.
The announcement comes just days after federal student loan repayments began again for the first time in over three years — the result of the Supreme Court's rejection in June of Biden's pandemic-era debt relief plan, which was aimed at canceling up to $20,000 in student debt for about 43 million eligible borrowers. 
The newly approved $9 billion includes $5.2 billion in additional debt relief for 53,000 beneficiaries of the Public Service Loan Forgiveness program, a White House statement said.
The new funds also include nearly $2.8 billion for about 51,000 borrowers on income-based repayment plans who made 20 years or more on payments, but "never got the relief they were entitled to," the release said. 
Another $1.2 billion will go to an estimated 22,000 borrowers who have a total or permanent disability, the statement said. 
"President Biden has long believed that college should be a ticket to the middle class, not a burden that weighs on families," the White House statement said.
Following the Supreme Court's decision to invalidate Biden's plan, which would have eliminated more than $400 billion in student debt, the president implemented alternate measures to try to chip away at the nationwide debt. 
In June, Biden announced that borrowers would have the ability to enroll in a temporary 12-month "onramp repayment program" that would remove the threat of default or harm to borrowers' credit. He also stated that borrowers would not need to use more than 5% of their discretionary income to pay undergraduate loans, down from a previous cap of 10%.
"As I said at the time, I believe the court's decision to strike down my student debt relief program was wrong. But I promised I wouldn't give up," Biden said during his remarks Wednesday. 
Source: https://www.nbcnews.com/politics/joe-biden/biden-tout-efforts-ease-student-debt-9b-loan-forgiveness-rcna118780
Related Posts