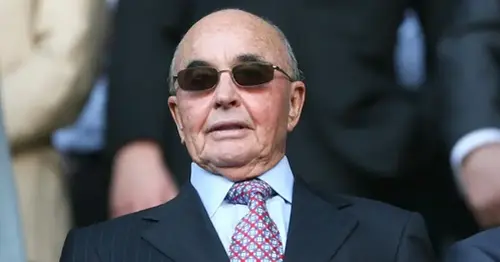 British billionaire Joe Lewis charged over insider trading scheme
Joe Lewis, a British billionaire and recent owner of the Tottenham Hotspur soccer team, has been charged in the U.S. with involvement in insider trading, a federal prosecutor announced Tuesday.
The Southern District of New York indicted Lewis, alleging the 86-year-old businessman schemed for years to abuse his access to corporate boardrooms "and repeatedly provided inside information to his romantic partners, his personal assistants, his private pilots and his friends," U.S. Attorney Damian Williams said in a video statement describing the indictment, adding that Lewis orchestrated "a brazen insider trading scheme."
"Joe Lewis is a wealthy man, but as we allege, he used insider information as a way to compensate his employees or to shower gifts on his friends and lovers," Williams said. "That's classic corporate corruption. It's cheating and it's against the law, laws that apply to everyone no matter who you are."
Lewis' lawyer, David M. Zornow, said the government made "an egregious error in judgment" with the charges, calling Lewis a man of "impeccable integrity and prodigious accomplishment."
"Mr. Lewis has come to the US voluntarily to answer these ill-conceived charges, and we will defend him vigorously in court," Zornow said in a statement.
The United Kingdom and the U.S. have a bilateral extradition relationship under a treaty signed in 2003 that bolsters each country's authority to extradite people deemed serious offenders who are wanted in connection with a variety of crimes.
Lewis' net worth is $6.1 billion, according to a Forbes estimate. He founded the private investment firm Tavistock Group and became a majority owner of London-based Tottenham more than 20 years ago after Alan Sugar sold his majority stake in the team for the equivalent of about $50 million today. A family trust took majority control of the team last year.
Forbes' annual rankings say the team is the ninth most valuable soccer club in the world, worth $2.8 billion.
Tavistock did not immediately respond to a request for comment on Lewis' indictment.
A spokesperson for Tottenham said, "This is a legal matter unconnected with the Club and as such we have no comment."
Source: https://www.nbcnews.com/politics/justice-department/british-billionaire-joe-lewis-charged-insider-trading-scheme-rcna96344
Related Posts