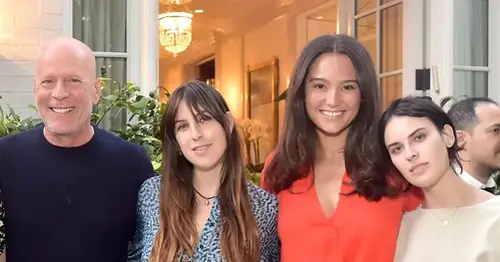 Bruce Willis' family opens up about 'grief' they feel on his 68th birthday
Bruce Willis' family members are speaking candidly about the grief they feel on the actor's birthday this year, as it falls just one month after he was diagnosed with frontotemporal dementia.
In a video posted on Sunday on Instagram, the actor's wife, Emma Heming Willis, shared an emotional video about honoring Bruce Willis' 68th birthday amid his recent health issues.
"Today is my husband's birthday. I have started the morning by crying, as you can see by my swollen eyes and snotty nose," she said to begin the video. "I just think it's important that you see all sides of this."
Heming Willis shared that she often receives messages that tell her "I don't know how you do this," to which she responds, "I'm not given a choice. I wish I was, but I'm also raising two kids in this, so sometimes in our lives, we have to put our big girl panties on and get to it."
"I do have times of sadness, every day," she said. "Grief, every day. And I'm really feeling it today on his birthday."
The 44-year-old model shared that the emotions came about while she was editing a video she planned on sharing for her husband's birthday.
"I don't know why I do that to myself because the videos are like a knife in my heart," she explained. "But as much as I do it for myself, I do it for you, because I know how much you love my husband and it means so much to me, so thank you."
Bruce Willis diagnosed with frontotemporal dementia, family says
Feb. 17, 2023
02:38
In a second post shared on Instagram, Heming Willis shared the video she was editing, which included a montage of clips set to Stevie Wonder's song "As."
"My birthday wish for Bruce is that you continue to keep him in your prayers and highest vibrations because his sensitive Pisces soul will feel it," she wrote in the caption. "Thank you so much for loving and caring for him too."
Bruce Willis' 31-year-old daughter, Scout LaRue Willis — who he shares with his ex-wife Demi Moore — also shared a touching post for her father's birthday on Instagram. She posted a throwback photo of her sitting on her dad's shoulders with her cheek resting against the top of his head.
In her caption, she asked fans to send "love, tenderness, care, and prayer" to her father, who she called "one of my best friends, the Pisces king, the master of duality, both action hero icon and gentle girl dad."
"What a privilege to have this man as my father and learn so much about life, joy, mischief and art through him," she added.
Scout Willis acknowledged that this birthday was not an "easy day" because it was one that is full of "deep love" adding that "our grief really does show us the depth of our loving for someone."
"Grief is a price I'll always pay to know what it is to feel such love," she wrote. "I'm sending my love to anyone who has ever felt the capacity stretched by the enormity of love and humanness of grief."
Tallulah Willis, the actor's 29-year-old daughter who he also shares with Moore, posted several throwback photos of her dad and one selfie with him on Instagram to mark his birthday.
"feeling awash with all the good energies and love headed this Willis way!" she wrote. "I love him and he loves me — what a delight!"
Bruce Willis' wife calls out paparazzi
March 8, 2023
03:12
In March 2022, the family announced that Bruce Willis was diagnosed with aphasia and that he'd be stepping away from acting. Less than a year later, his family shared in a joint statement that he was diagnosed with frontotemporal dementia, known as FTD. This condition is a less common type of dementia that affects the frontal and temporal lobes of the brain. 
In March, after attending a gala for the Association for Frontotemporal Degeneration, Heming Willis shared her appreciation for the support that has been sent to her husband and family.
Source: https://www.nbcnews.com/pop-culture/pop-culture-news/bruce-willis-family-opens-grief-feel-68th-birthday-rcna75701
Related Posts