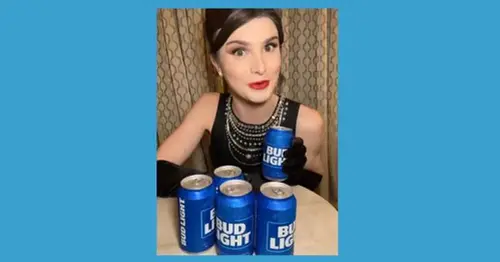 Bud Light partnership with trans influencer Dylan Mulvaney prompts right-wing backlash
March Madness may be over, but the right-wing fury directed toward Bud Light and one of its partners during the annual NCAA basketball tournament is still simmering. 
On Sunday, the day of the women's final and the day before the men's championship, transgender social media influencer Dylan Mulvaney, 26, shared a sponsored post on her Instagram account promoting Bud Light's March Madness contest. 
Backlash from conservatives, who have already made Mulvaney — best known for her "Days of Girlhood" TikTok series — one of their favorite targets, was swift, especially across social media. 
In the two days since Mulvaney's post about Bud Light, which is owned by Anheuser-Busch, countless videos have been shared online showing consumers dumping their Bud Light products in trash bins and down sinks — and even violently destroying cans of the beer. 
One particularly jarring response came in an Instagram video posted Tuesday by the singer-songwriter Kid Rock.
"F--- Bud Light and f--- Anheuser-Busch," he shouted, while wearing a "MAGA" hat, after shooting at cases of Bud Light with what appeared to be a semi-automatic rifle. As of Wednesday afternoon, the video had over 1.2 million views and hundreds of comments, many of them praising the musician's choice of target. 
Asked about its partnership with Mulvaney and the subsequent backlash, a spokesperson for the beer conglomerate said, "Anheuser-Busch works with hundreds of influencers across our brands as one of many ways to authentically connect with audiences across various demographics."
Mulvaney did not respond to a request for comment. 
Mulvaney, who now has more than 10 million followers on TikTok and 1.7 million on Instagram, rose to prominence in March last year, when she started to chronicle her gender transition in her "Days of Girlhood" TikTok series. She was even chosen in October to be among a small group of young advocates invited to meet with President Joe Biden at the White House, where Mulvaney talked to the president about transgender issues. 
As Mulvaney's popularity has surged, so has the online criticisms.
Shortly after Mulvaney's sit-down with Biden, Sen. Marsha Blackburn, R-Tenn., tweeted out a video of Mulvaney and wrote, "Dylan Mulvaney, Joe Biden, and radical left-wing lunatics want to make this absurdity normal."
Caitlyn Jenner, who, like Mulvaney, is a transgender woman, joined in by sharing Blackburn's tweet, writing: "@MarshaBlackburn thank you for speaking out and having a backbone — one of the best senators we have. Let's not 'normalize' any of what this person is doing. This is absurdity!"
Source: https://www.nbcnews.com/nbc-out/out-pop-culture/bud-light-partnership-trans-influencer-dylan-mulvaney-prompts-rightwin-rcna78295
Related Posts