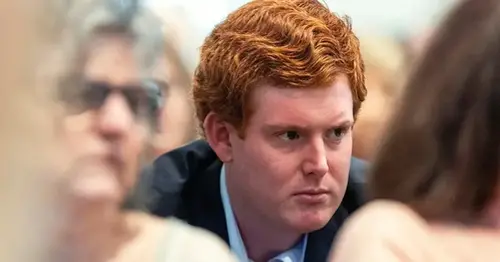 Buster Murdaugh says he had nothing to do with teen's hit-and-run death
Buster Murdaugh, son of former attorney of note and convicted murderer Alex Murdaugh, is pleading to have his name omitted from news coverage of the death of a young man in 2015.
Murdaugh, 26, has not been connected to the death of Stephen Smith, who was 19 when his body was found on a country road in Hampton County, South Carolina. The discovery was made roughly 15 miles from Buster Murdaugh's home and 2 to 3 miles from Smith's vehicle, which had apparently run out of gas.
"These baseless rumors of my involvement with Stephen and his death are false," Murdaugh said in a statement Monday. "I unequivocally deny any involvement in his death, and my heart goes out to the Smith family."
It's been widely reported that Buster Murdaugh and Smith may have attended a South Carolina high school together, but that has not been verified by NBC News.
"I am requesting that the media immediately stop publishing these defamatory comments and rumors about me," Buster Murdaugh said.
A July 8, 2015, autopsy report by pathologists at the University of South Carolina determined that Smith had been struck by a vehicle. It cited as evidence for that conclusion a stretched brain stem, irregular abrasions and contusions, and blood in his airways.
The report also ruled out gunfire, noting the absence of projectiles or bullet fragments in Smith's body.
The Island Packet, a local publication, reported that nonmedical investigators believed Smith's body had a defensive wound, a factor that may have led law enforcement to see the case as a possible homicide.
The publication based its story on an early investigator's report. The document also said there appeared to be no evidence at the scene — such as broken glass, debris, cracked signal covers — of a vehicle hitting a pedestrian.
Medical doctors apparently disagreed that Smith's demise was anything other than a hit-and-run. The driver of the vehicle allegedly involved has not been found.
On Friday, Smith's mother, Sandy Smith, confirmed that she will use money raised from a crowdfunding effort online to exhume Smith's body and conduct a private medical examination. She does not believe the hit-and-run narrative, she said.
"We need a new, unbiased look at his body and an accurate determination of his cause of death based on facts," she wrote on her GoFundMe page.
Stephen Smith's death got a second look when the South Carolina Law Enforcement Division announced in 2021 that it would widen its inquiry into the June 2021 shooting deaths of Buster Murdaugh's mother, Margaret Murdaugh, 52, and brother, Paul, 22, in order to look into Smith's death.
The murders rocked the South Carolina legal community because Murdaugh was a name synonymous with a more than century-old law firm, elected officials, and high-profile lawyers, including contemporary family scion Alex Murdaugh, 54.
On March 2, Murdaugh was convicted of two counts of murder and two counts of using a firearm during a crime in connection with the shooting deaths of his wife and son on family property. The next day he was sentenced to life in prison without parole. He has since filed notice of his intention to appeal the convictions, and the onetime lawyer has maintained that he is innocent.
Prosecutors said he carried out the murders to evoke sympathy and distract from a probe into financial misdeeds, including allegations that he stole from clients.
Buster Murdaugh on Monday said he has suffered harassment by members of the media who follow him during road trips, park outside his residence and capture photos of him as he's inside his Hilton Head Island home, according to incident reports from the Beaufort County Sheriff's Office.
On Monday, Murdaugh said he has tried to ignore reports about the Smith probe that mention his name.
"I have tried my best to ignore the vicious rumors about my involvement in Stephen Smith's tragic death that continue to be published in the media as I grieve over the brutal murders of my mother and brother," he said in the statement.
Source: https://www.nbcnews.com/news/crime-courts/buster-murdaugh-says-nothing-teens-2015-hit-run-death-rcna75683
Related Posts