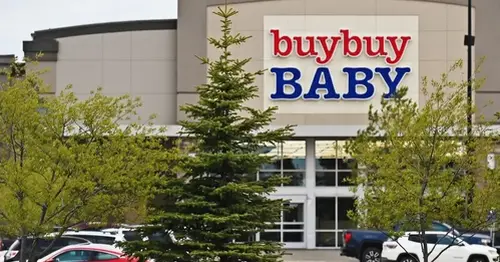 Buy Buy Baby hits auction block after Bed Bath & Beyond assets get sold off
Buyers will look to bid on the Buy Buy Baby brand Wednesday amid the bankruptcy of its parent company, Bed Bath & Beyond.
Buy Buy Baby is seen by many analysts as the most valuable asset owned by Bed Bath & Beyond, hence the decision to hold a separate auction for the brand of infant products.
But the future of Buy Buy Baby, especially its storefronts, remains an open question: CNBC reported Friday that at least one interested bidder has cooled on the idea of maintaining a physical footprint for the brand, citing the potential expense of doing so.
"There's not a profitable model where you only have 10 stores or 40 stores," a person familiar with the matter said.
Buy Buy Baby had approximately 120 stores when Bed Bath & Beyond filed for bankruptcy. In the third quarter of 2022, sales at Buy Buy Baby declined more than 20%.  
Amid a slowing economy, big-box stores are increasingly seen as the most likely retailers that can make brick-and-mortar work, said Neil Saunders, managing director for retail at GlobalData consultancy.
"It's a competitiveness question," he said. "There's no doubt that people still buy baby stuff from physical stores, but you can do that at a lot of places — and a lot are very sharp on price and super convenient, including for parents," he said.
The direct-to-consumer online registry Babylist has submitted a bid to acquire some of Buy Buy Baby's assets, such as its domain name and trademark, CEO Natalie Gordon told CNBC.
"When we looked at the stores and the Buy Buy Baby store footprint, we really said like, does this accelerate this strategy? ... And the answer was actually no," she said. Babylist had earlier told CNBC it had $290 million in 2022 revenue and is profitable.
Buy Buy Baby was founded in 1996 by Richard and Jeffrey Feinstein. The men are sons of Bed Bath & Beyond cofounder Leonard Feinstein. The company was purchased by Bed Bath & Beyond in 2007 for $67 million.
Bed Bath & Beyond filed for bankruptcy protection in April, stating in filings that it owed debts of more than $5 billion. The filing came despite multiple attempts to revive the flagging brand, including a short-lived intervention last year by current GameStop Executive Chairman Ryan Cohen. Part of Cohen's proposed turnaround strategy involved spinning off Buy Buy Baby, which he said in a March 2022 letter was likely "much more valuable" than Bed Bath & Beyond's entire market capitalization.
Bed Bath and Beyond closed multiple locations as part of its early efforts to cut costs.
Cohen's brief interest in the company — he sold his position in the company in November 2022 without further comment — put Bed Bath & Beyond shares into the realm of meme stocks, a retail investor-driven phenomenon in which struggling companies gain interest from day traders who are betting on a long-shot revival. Though now worth less than $1, its shares have climbed approximately 19% in the past 30 days on reports that the company is successfully paying off some debts.
Source: https://www.nbcnews.com/business/business-news/buy-buy-baby-auction-how-much-who-won-rcna91451
Related Posts