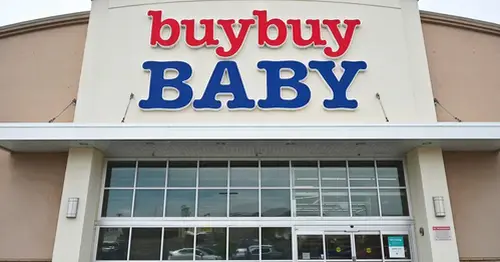 Buy Buy Baby suitors lose interest in keeping stores open as auction nears
Buy Buy Baby, the baby goods retailer owned by Bed Bath & Beyond, has been attracting interest ahead of its bankruptcy-run auction. But suitors are cooling on keeping its stores open.
Earlier this week, Bed Bath & Beyond said in court papers there would be a bankruptcy-run auction Wednesday for Buy Buy Baby's assets. Bed Bath had its own auction this week, with Overstock.com agreeing to buy for the brand's intellectual property and digital assets.
Divvying up the company's banners into two auctions came as interested buyers continue to weigh offers for Buy Buy Baby, some that included keeping stores open, according to people familiar with the matter, who were not authorized to speak publicly due to the private nature of the negotiations.
But as the auction nears, interest in keeping Buy Buy Baby's stores open has waned.
In particular, the expenses behind running the stores — leases, overhead costs, salaries — make it difficult to reach profitability if Buy Buy Baby's stores were acquired along with its intellectual property, one of the people said. "There's not a profitable model where you only have 10 stores or 40 stores," the person said.
Buy Buy Baby had approximately 120 stores, according to court papers.
Direct-to-consumer online registry Babylist has submitted a bid to acquire some of Buy Buy Baby's assets, like its domain name and trademark, CEO Natalie Gordon told CNBC.
"When we looked at the stores and the Buy Buy Baby store footprint, we really said like, does this accelerate this strategy? ... And the answer was actually no," said Gordon. Babylist had earlier told CNBC it had $290 million in 2022 revenue and is profitable.
Gordon added that the size of the overall footprint, the stores themselves and how the stores work wouldn't take Babylist in the direction it wanted to go.
More from CNBC
Starbucks union says workers at more than 150 stores will strike over Pride decor
Why GM is killing Chevrolet Camaro, one of the last affordable American sports cars
Southwest Airlines reaches tentative agreement with mechanics' union
Meanwhile, investment firm Go Global Retail has been weighing a bid, the people said. In addition, pre-bankruptcy lender Sixth Street Partners is considering an offer, and could team up with an e-commerce platform to credit bid on Buy Buy Baby, the people said.
Initially, Go Global Retail — which owns the children's wear brand Janie and Jack — was interested in keeping Buy Buy Baby stores open, the people said. That number has since dwindled down to about 20 stores, if any at all, they added. The Wall Street Journal earlier reported Go Global Retail's interest.
The potential credit bid from Sixth Street and the e-commerce platform, whose identity remains unclear, would likely just be for Buy Buy Baby's intellectual property, the people said. An attorney for Sixth Street reportedly said in court the lender was considering a credit bid for some or all of Bed Bath & Beyond's assets if no others emerged.
Go Global Retail declined to comment. Representatives for Bed Bath & Beyond and Sixth Street didn't immediately respond to comment.
Buy Buy Baby in a quagmire
Although it has long been considered the crown jewel of Bed Bath & Beyond's portfolio, and attracted interested buyers before and during the bankruptcy process, Buy Buy Baby has still been slow to nab a new owner.
While valuations have increased due to high interest rates upping the cost of capital, in this case the cost of keeping Buy Buy Baby's stores open outweighs the upfront bid, some of the people said.
The value of Buy Buy Baby's intellectual property and other assets is unclear.
This week, Bed Bath & Beyond's intellectual property and digital assets were sold to Overstock.com for $21.5 million. The retailer will seek court approval for the sale on Tuesday. Bed Bath & Beyond sought bankruptcy protection in April with 360 namesake stores, all of which will be closed.
But as consumers shift their spending habits to online shopping and experiences such as travel and dining out after the early stages of the Covid pandemic, retail chains like Bed Bath & Beyond with sprawling footprints and large stores have suffered.
The intellectual property of beleaguered retailers — which includes trademarks, websites, customer data and the brand itself — is often the asset that attracts high interest during bankruptcy sale processes.
Retailers like the once-ubiquitous Sports Authority and Toys 'R Us saw their stores liquidated and closed during their bankruptcy proceedings, but their intellectual property was sold and, in some cases, revived later.
Source: https://www.nbcnews.com/business/business-news/buy-buy-baby-suitors-lose-interest-keeping-stores-open-auction-nears-rcna90853
Related Posts