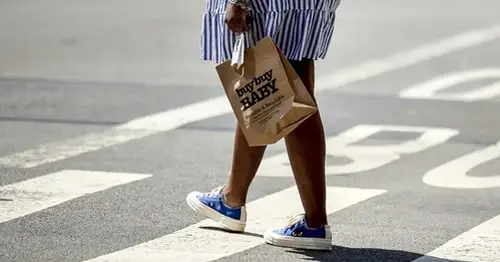 Buybuy Baby may survive as Bed Bath & Beyond fades into bankruptcy
Even as its parent company goes under, buybuy Baby is likely to survive.
Analysts believe that as part of Bed Bath & Beyond's bankruptcy reorganization, the company will look to sell the United States' largest specialty baby-product retailer, which Bed Bath & Beyond acquired in 2007.
Buybuy Baby is already seeing interest from outside suitors. Last week, CNBC reported the online rival retailer Babylist as well as an unnamed retail group have expressed interest in purchasing some or all of buybuy Baby's assets.
Natalie Gordon, founder of Babylist, did not respond to a request for comment. CNBC reported Gordon's company was seeking to acquire buybuy Baby's domain and trademark.
The investment firm representing the unnamed retailer, which CNBC said would seek to keep as many as 75% of buybuy Baby's stores open, confirmed in an email that it was representing the unnamed firm but declined to comment further.
Buybuy Baby has emerged as the last baby-specific retailer standing after the 2018 failure of Babies R Us. As of late April, 120 buybuy Baby stores were still open, alongside 360 of Bed Bath & Beyond's namesake stores, CNBC said.
Despite its seemingly more stable footing, buybuy Baby's financial performance has been lackluster. It reported same-store sales in the low-single digits in the 2021 holiday quarter; in the most recent quarter before its parent company filed for bankruptcy, it said sales had fallen more than 20% — though this was slightly better performance than Bed Bath & Beyond's 34% decline.
A representative for Bed Bath & Beyond did not respond to a request for comment.
Still, the baby retail segment maintains healthy growth, a trend on which buybuy Baby should be able to capitalize, said Neil Saunders, managing director at GlobalData analytics and consulting company.
"I think buybuy Baby has a future," Saunders said. While it is likely to be sold at a bargain given the general mismanagement of its parent, he said, its mere presence in the baby category alone will prove valuable.
"It's a part of the market where clients still appreciate advice and insight from specialists," Saunders added. "So there's still a need for this category in a way there just isn't for Bed Bath & Beyond."
Source: https://www.nbcnews.com/business/corporations/buybuy-baby-bankruptcy-company-may-survive-after-bed-bath-and-beyond-rcna87747
Related Posts