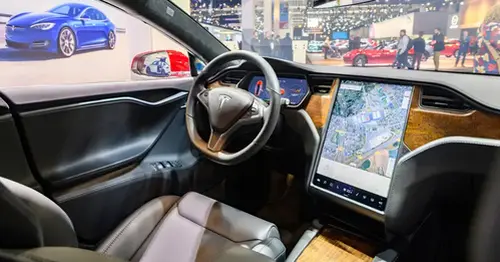 California jury finds Tesla Autopilot did not fail in crash case
A California state court jury on Friday handed Tesla a sweeping win, finding that the car maker's Autopilot feature did not fail to perform safely in what appears to be the first trial related to a crash involving the partially automated driving software.
The verdict could be an important victory for Tesla as it tests and rolls out its Autopilot and more advanced "Full Self-Driving (FSD)" system, which Chief Executive Elon Musk has touted as crucial to his company's future, but which has drawn regulatory and legal scrutiny.
Justine Hsu, a resident of Los Angeles, sued the electric-vehicle maker in 2020, saying her Tesla Model S swerved into a curb while it was on Autopilot and then an airbag was deployed "so violently it fractured Plaintiff's jaw, knocked out teeth, and caused nerve damage to her face."
She alleged there were defects in the design of Autopilot and the airbag, and sought more than $3 million in damages for the alleged defects and other claims.
Tesla denied liability for the 2019 accident. It said in a court filing that Hsu used Autopilot on city streets, despite Tesla's user manual warning against doing so.
During a court hearing in Los Angeles Superior Court on Friday, the jury awarded Hsu zero damages. It also found that the airbag did not fail to perform safely, and that Tesla did not intentionally fail to disclose facts to her.
Hsu broke down in tears outside the courtroom after the jury delivered its verdict.
One of Hsu's attorneys, Donald Slavik, said they are disappointed in the result and appreciate the jury's service. Tesla attorney Michael Carey declined to comment.
Tesla calls its driver-assistant systems Autopilot or Full Self-Driving, but says the features do not make the cars autonomous, and that human drivers should be "prepared to take over at any moment."
The EV maker introduced its Autopilot in 2015, and the first fatal accident in the United States was reported in 2016, but the case never went to trial.
Critical time for Tesla
The Hsu trial, which has not been reported by other media, unfolded in Los Angeles Superior Court over the last three weeks, and featured testimony from three Tesla engineers.
It came at a critical time for the company as it braces for a spate of other trials starting this year related to the semi-automated driving system, which Musk has claimed is safer than human drivers.
While the trial's outcome is not legally binding in other cases, it is considered a test case because it would serve as a bellwether to help Tesla and other plaintiffs' lawyers hone their strategies, experts say.
Cassandra Burke Robertson, a professor at the Case Western Reserve University School of Law who has studied self-driving car liability, said early cases "give an indication of how later cases are likely to go."
Tesla is also under investigation by the U.S. Justice Department and the National Highway Traffic Safety Administration over its claims about self-driving capabilities and the safety of the technology, respectively.
The main question in Autopilot cases was who is responsible for an accident while a car was in driver-assistant Autopilot mode — a human driver, the machine, or both? Hsu's lawsuit alleged that the Tesla vehicle hit the curb so suddenly that she had no time to avoid it even though she had her hands on the steering wheel and was alert.
Reuters was first to report that a 2016 video used by Tesla to promote its self-driving technology was actually staged, to show capabilities — such as stopping at a red light and accelerating at a green light — that the system did not have, according to testimony by a senior engineer.
The details about the video were from a deposition of a Tesla executive in another case.
Source: https://www.nbcnews.com/business/business-news/california-jury-finds-tesla-autopilot-not-fail-crash-case-rcna80902
Related Posts