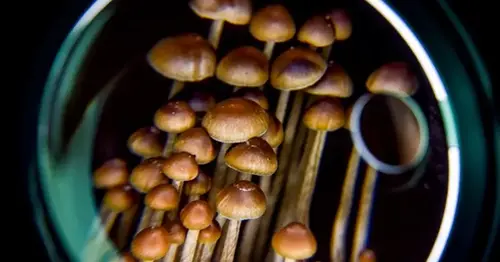 Candidates who support psychedelics as medicine get a political action committee
Bolstered by a growing body of research on the use of psychedelics to treat depression, anxiety, post-traumatic stress disorder and other mental health conditions, a new political action committee seeks to elect leaders who support the therapeutic use of substances like psilocybin (in magic mushrooms), ketamine and MDMA, commonly known as ecstasy.
The founders behind the newly formed Psychedelic Medicine PAC also aim to secure federal funding to further education and research efforts at a time of increased scrutiny over the dangerous side effects of opioids, especially fentanyl, and other traditional pharmaceuticals.
Advocates have long argued that the therapeutic use of psychedelics can be safer and more effective than prescription drugs, some of which carry the risk of dependency. It's a movement that has grown in recent years as more clinical studies back those claims and as society grapples with deepening mental health issues exacerbated by the pandemic.
But even true believers say more research is needed to fully understand how the same substances popularized by hippies and ravers can be used to treat potentially life-threatening disorders.
"We have to convince a historically stubborn audience around psychedelics that it's not the 1960s," said Ryan Rodgers, co-founder and executive director of Psychedelic Medicine PAC.
"People aren't going to stare into the sun for their eyes to blow out. People aren't going to jump off a building," he said. "This is about healing trauma. It's not about recreation."
Melissa Lavasani, the group's co-founder and executive director, has experienced that healing firsthand after using psychedelics to treat postpartum depression and chronic pain. She led decriminalization efforts in Washington, D.C., where she pushed through an initiative that made cultivation and possession of plant and fungi medicines the lowest priority for local police and prosecutors.
The measure passed overwhelmingly with 76% endorsing it in 2020, the same year Oregon approved a ballot initiative to legalize the use of psychedelic mushrooms in therapeutic settings.
Since then, similar initiatives have cropped up throughout the country. A bipartisan group of congressional leaders launched a caucus dedicated to promoting research and awareness around psychedelic-assisted therapy earlier this year. Last year, the Biden administration said it was exploring the possibility of creating a task force to study psychedelics, anticipating the Food and Drug Administration would approve such therapy in the coming years.
"A research approach and a science-drive approach is really the path of least resistance," Lavasani said. "It's going to take a little longer — it's a very slow approach and it's very methodical what we're trying to do — but it's a way to ensure people feel comfortable buying into this issue."
The group, which aims to raise $10 million in the first year, is in the early stages of fundraising and is reaching out to all levels of donors, including investors in the for-profit biotech space and Silicon Valley, Rodgers says.
The playbook also includes securing buy-in from both Democrats and Republicans, a strategy that worked in the early days of cannabis legislation reform but which has so far failed to attract a groundswell of support for legalization and decriminalization.
"We want to ensure that what we're advocating for doesn't create an opposition to the issue within the halls of Congress," Lavasani said. "We've seen how some of the strategies employed by the cannabis reform movement have been really divisive and that's really delayed some of the progress. That's a real lesson learned."
Among those lessons, Lavasani added, is to not push for legalization or decriminalization before elected leaders have a better understanding of psychedelics and how they can be used in therapeutic settings.
"If their goal is to reschedule or decriminalize, they're going to have an extremely hard time," said Dustin Robinson, founder of Iter Investments, a psychedelics venture capital firm. "But if their goal is to create more policies around what's happening with psychedelics in the therapeutic space, the federal government appears very open to that."
Unlike cannabis, which carries a deep stigma from the so-called war on drugs, psychedelics appear to be more palatable to a larger audience. They are not smoked, can be taken in small doses and when paired with therapy have been found to effectively treat severe mental health disorders.
"The time is right," said Stuart Titus, chairman of the board for Hempacco, a California-based hemp products manufacturer. "With today's economic climate, we see a very challenging environment for companies to raise money for study and research. Getting the federal government to pay for it would be very popular."
But the sudden interest in psychedelics as medicine closely resembles the cannabis industry's early boom that has since sputtered as cumbersome regulations slow down state programs and congressional leaders stall efforts to federally decriminalize the plant, which remains a Schedule 1 drug, meaning it has no currently accepted medical use and a high potential for abuse, according to the Drug Enforcement Administration.
MDMA, LSD and psilocybin, which is found in magic mushrooms, are categorized by the DEA as controlled substances with no medicinal value.
Source: https://www.nbcnews.com/news/us-news/candidates-support-psychedelics-medicine-get-political-action-committe-rcna75295
Related Posts