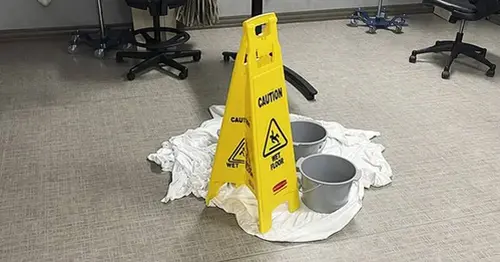 CEO of HCA hospital in Florida that allegedly had roaches in the operating room leaves job
The chief executive of HCA Florida Bayonet Point, the Hudson, Florida, hospital whose physicians characterized it as unsafe and unclean in a February NBC News report, has departed after less than four years, according to a memo delivered to the staff Friday.
Regina Temple is leaving "to pursue other opportunities outside HCA Healthcare, effective immediately," the memo said. Temple's exit seemed sudden, physicians working at the hospital said, as she was engaged in long-term initiatives as recently as mid-July.
Temple, who is being replaced by an acting chief executive, did not return a text seeking comment.
HCA Healthcare is the nation's largest hospital chain, with more than 180 hospitals in the United States and the United Kingdom. The company is highly profitable but has come under criticism from some doctors and nurses for practices they say put profits ahead of patients. NBC News reported in June that 27 doctors at 16 HCA facilities said their officials pushed doctors into admitting patients to hospice care, reducing in-hospital mortality rates, a closely watched quality measure, and freeing up beds more quickly, potentially generating more revenues. HCA's spokesman said in a statement then that "Suggesting that medical care in HCA Healthcare hospitals is based on anything other than a physician's independent medical judgment of what is in the patient's best interest is untrue and wrong."
In the February NBC News report about Bayonet Point, four physicians working there said hospital leadership was endangering patients by focusing on cutting costs to generate profits and bonuses. The physicians said they had to deal with unsanitary surgical instruments, inadequate monitoring of intensive care unit patients and an overflowing emergency department. After the administration replaced the hospital's long-standing anesthesiology professionals with per diem staff, errors began occurring, the physicians said, including a patient waking up during surgery.
Photos of Bayonet Point provided by insiders showed ceiling leaks in a recovery room, oxygen equipment held together with tape, bloody and backed-up sinks, wires dangling from a hole in the wall and cockroaches in the operating room.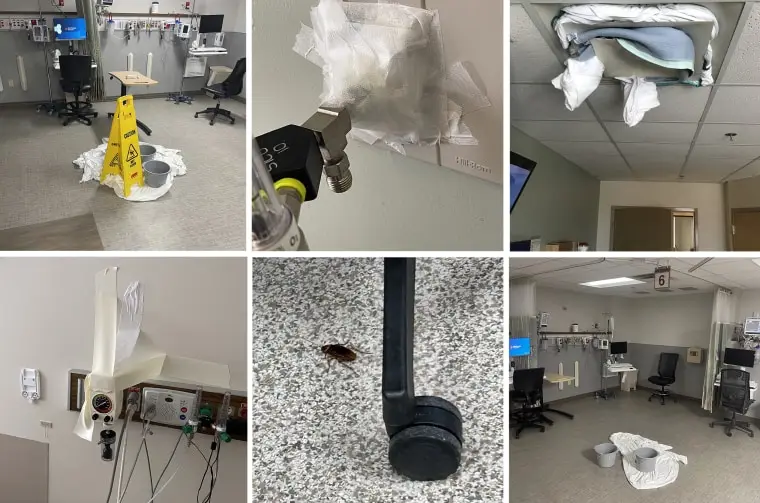 At the time, Temple declined NBC News' request for an interview and a spokeswoman for the Level 2 trauma center said Bayonet Point was "appropriately staffed to ensure the safe care of our patients." The spokeswoman also said, "We rely on feedback from our physicians, and when issues are validated we take necessary action."
Jyric Sims, president since June 12 of HCA's West Florida division, which oversees Bayonet Point, did not respond to a request for comment on Temple's departure or on the continuing problems at the facility. A hospital spokeswoman said Temple "continues to be employed in an advisory capacity." She declined to comment further or answer other questions about Bayonet Point.
Public records show that a few weeks after the NBC News report on Bayonet Point, the Florida Agency for Health Care Administration identified deficiencies in the hospital's quality of care. In an "unannounced complaint survey" completed March 7, agency officials determined that "the facility failed to provide supervisory oversight" to ensure the immediate availability of a registered nurse in five of its 10 nursing care units. The report also noted an unidentified staff member characterizing the facility's night shift nurses as having poor supervision, yet "they keep adding things for the nurses to do." Another staffer noted: "When the Agency for Health Care Administration is in the building, they find staff but when AHCA leaves it goes to being understaffed."
Even worse was a March 28 agency complaint that determined Bayonet Point had failed to provide a safe discharge for a Spanish-speaking patient who was left unattended in the hospital lobby. The patient was later found disoriented and sitting at a local bus stop, where he had been for more than 24 hours, the report said. The president of quality at Bayonet Point, the report stated, disclosed to the agency that "the facility does not have a policy for nursing staff on discharging patients."
Subsequent visits by the agency found the deficiencies corrected and no additional shortcomings.
After the February NBC News report, two Republican members of Congress from Florida, Sen. Marco Rubio and Rep. Gus Bilirakis, sent a letter to HCA Healthcare requesting information about conditions and safety at Bayonet Point. It could not be determined how HCA responded — Congress is on summer hiatus and the hospital's spokeswoman declined to provide its response to NBC News.
Two physicians said conditions at Bayonet Point have not improved significantly in recent months. The air conditioning system broke down in April, according to the physicians, and high humidity levels contaminated the surgical instrument trays. The hospital had to send the instruments and trays out to other facilities for sterilization, closing the operating room for a week.
Cockroaches remain a problem in the operating room, the doctors said. One said a staffer had recently placed two insects in specimen jars, labeled them and left them on the main desk in the operating room.
Whistleblower says he's facing retaliation for speaking out about hospital management
Feb. 16, 2023
05:18
On July 26, the Centers for Medicare and Medicaid Services updated its hospital comparison website; it assigned the Bayonet Point facility one star out of five overall, well below average. Bayonet Point's previous rating was also one star, which the hospital's spokeswoman said in February was based on old data from 2017 to 2019. The hospital had improved its quality since then, the spokeswoman said, a contention that CMS' new rating does not confirm. The hospital spokeswoman declined to comment about the new one-star rating.
At the time of the February NBC News report, Bayonet Point was rated 'A' for patient safety by Leapfrog Group, an organization that ranks hospitals and describes itself as a health care watchdog. In November 2021, when the facility received that ranking from Leapfrog, Temple said the grade "validates our commitment to safety." 
Source: https://www.nbcnews.com/news/investigations/ceo-hca-bayonet-point-hospital-florida-leaves-job-rcna97354
Related Posts