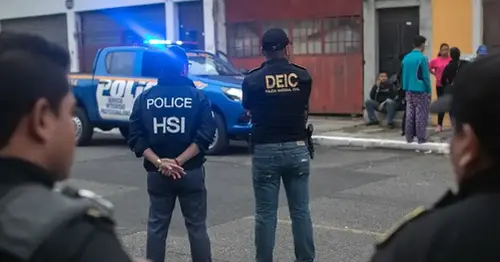 Child labor investigation spreads to meatpacking, produce companies in 11 states
A federal investigation into Guatemalan children working in the U.S. in violation of child labor laws has expanded to include meatpacking and produce firms that have allegedly hired underage migrants in at least 11 states, two senior U.S. officials told NBC News.
Investigators from the Department of Homeland Security's Homeland Security Investigations and the Justice Department, as well as White House officials, are participating in the expanded inquiry, the officials said. The meatpacking and produce companies under scrutiny for possible child labor violations operate across the country in locations from Virginia to Colorado, the sources said. 
The investigation is part of a broader push by Biden administration agencies, including the Labor Department, to crack down on child labor violations. The Labor Department has documented a 69% increase in children employed in violation of child labor laws since 2018.
DHS isn't taking 'victory lap' over unexpectedly low border crossings after Title 42 lift
June 2, 2023
01:02
Earlier this year, NBC News reported that according to two U.S. officials familiar with the investigation, DHS and the Justice Department were trying to determine whether a human smuggling scheme brought migrant children to work for multiple companies in the meatpacking sector nationwide. The officials said the companies themselves were not targets of the investigation.
The investigators would not name any of the companies currently under investigation. Penalties could range from civil fines to criminal charges, the officials said, but no charges have been filed. 
"I think it's a huge positive step forward," said Wendy Young, president of Kids in Need of Defense, a legal aid organization for migrant children. "Now we need to make sure that the federal government really invests resources to follow through and sustain this effort. But I'm heartened by the fact that we're now seeing multiple agencies work together and really take this issue seriously," Young said.
Spokespeople for Homeland Security Investigations, the White House and the Labor Department declined to comment. The Justice Department did not respond to a request for comment. 
When a Labor Department investigation found Wisconsin-based Packers Sanitation Services Inc. (PSSI) had more than 100 children working across 13 locations in eight states, the company paid $1.5 million in civil penalties. A company spokesperson maintained that any child hired by the company used fake documentation to get the job. "We have always taken rigorous steps to comply with the law, including use of the government's E-Verify system for new hires, extensive training for all hiring managers, multiple audits, and use of biometrics," the spokesperson said.
The company said in April that it was launching a $10 million fund to "enhance the well-being of children in the communities we serve and help reduce the prevalence of the rising problem of underage workers."
One official told NBC News that there is a sense that the underage migrants have unfairly paid a steeper penalty than the companies.
Previously, some of the parents of child employees at PSSI faced child abuse charges and children were left afraid to talk to investigators out of fear of deportation, according to community advocates and court filings.
'You can't find work here': Guatemalan farmers say climate change is forcing them to migrate to U.S.
Sept. 24, 2021
03:33
Child labor, particularly among Guatemalan teenagers, is on the rise in the U.S. due to worsening economic conditions in the Central American country, increased migration by unaccompanied children in 2021 and 2022, and a U.S. labor shortage. The teenagers often provide falsified paperwork, including stolen identities, to show they are 18 or older and legally authorized to work in the U.S.
Source: https://www.nbcnews.com/politics/immigration/migrant-child-labor-investigation-11-states-meatpacking-produce-rcna88156
Related Posts