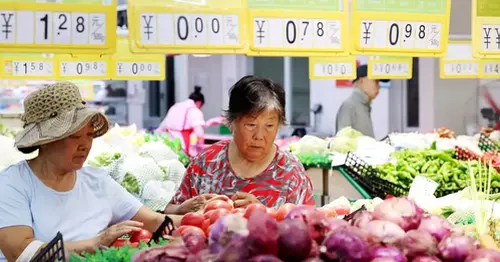 China deflation fears: Consumer prices fall for 1st time in 2 years
BEIJING — China reported inflation data for July that pointed to a modest improvement from June.
The consumer price index fell by 0.3% in July from a year ago, but was up by 0.2% when compared with June, according to the National Bureau of Statistics Wednesday.
The year-on-year CPI print for July was slightly better than expectations for a 0.4% decline, according to analysts polled by Reuters. It was still the first year-on-year decline since early 2021, according to official data accessed via Wind Information.
The producer price index fell by 4.4% in July from a year ago, better than the 5.4% decline in June, the data showed.
However, the year-on-year PPI read was worse than the 4.1% forecast by a Reuters poll.
"Both CPI and PPI are in deflation territory," said Zhiwei Zhang, president and chief economist of Pinpoint Asset Management, in a note following the data release. "The economic momentum continues to weaken due to lackluster domestic demand."
"The CPI deflation may put more pressure on the government to consider additional fiscal stimulus to mitigate the challenge," he added.
More from CNBC
China stocks fall as consumer prices drop for the first time in more than 2 years
How U.S. microchips are fueling Russia's military — despite sanctions
A 26% year-on-year drop in pork prices, a staple food in China, contributed to the overall decline in the CPI in July. Tourism prices rose by 13.1% from a year ago.
Core CPI, which excludes food and energy prices, rose by 0.8% from a year ago — the highest since January, according to official data accessed via Wind Information.
Producer prices will likely turn higher on a year-on-year basis before the consumer price index does, said Bruce Pang, chief economist and head of research for Greater China at JLL.
He expects consumer prices will still be dragged down in the coming months by falling pork prices and a high base effect, while core CPI may gradually rise.
Sluggish consumer demand
Lackluster domestic demand has persisted since the pandemic. China's consumer price index was flat in June from a year ago. Second-quarter data prompted several economists to warn of growing risk of deflation — a persistent decrease in prices over time.
Officially, China's central bank has pushed back against such fears and said it expects consumer prices to pick up after a dip in July.
Oxford Economics expects China's consumer price index to grow by 0.5% this year and the producer price index to fall by 3.5%.
"China's weak demand follow-through in Q2 can be attributed to its relatively contained demand-side stimulus during Covid, years of regulatory tightening, and an ongoing housing correction," Louise Loo, lead economist at Oxford Economics, said in a note Tuesday.
It's a "positive development" that authorities are choosing targeted easing, rather than large-scale stimulus, Loo said.
China reported trade data Tuesday that showed a sharp plunge in both overseas and domestic demand.
Exports fell by 14.5% in July from a year ago, while imports dropped by 12.4% in U.S. dollar terms — both worse than analysts had expected.
The sharp decline in the imports figure was partly due to commodity price declines, but Loo's estimates indicate imports declined in real volume terms by around 0.4%.
Source: https://www.nbcnews.com/news/world/china-consumer-prices-fall-deflation-fears-rcna98942
Related Posts