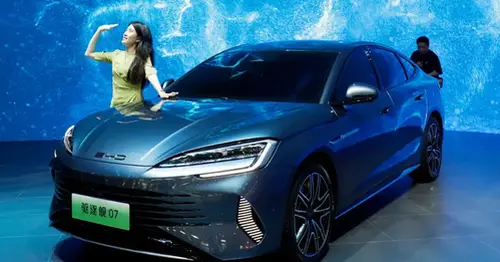 Chinese electric vehicle makers lead the world, rivaling U.S. pioneers
SHANGHAI — When Shanghai held its international auto show this spring, the world's biggest names were there: Toyota, Ford, BMW and more. But Chinese brands such as BYD and NIO stood out with electric vehicles that are cutting-edge — and affordable.
China's electric vehicle companies have grown rapidly in recent years, becoming major competitors for U.S. automakers like Tesla. 
William Li, the CEO of NIO, said competition in the EV industry is "much fiercer" in China, the world's largest market for EVs and for automobiles overall.
Every company "must go all out," he said in an interview at the Shanghai International Automobile Industry Auto Show in April. "Otherwise, you may be ahead today, [but] you may not be ahead in a few months." 
The fierce competition has spurred rapid development of the industry. According to Hong Kong-based Counterpoint Research, about one-quarter of passenger cars sold in China last year were all-electric or plug-in hybrid vehicles, compared with about 7% in the U.S.
"China is way ahead of the U.S. in terms of EV adoption," said Soumen Mandal, a senior analyst for Counterpoint, based in Kolkata, India.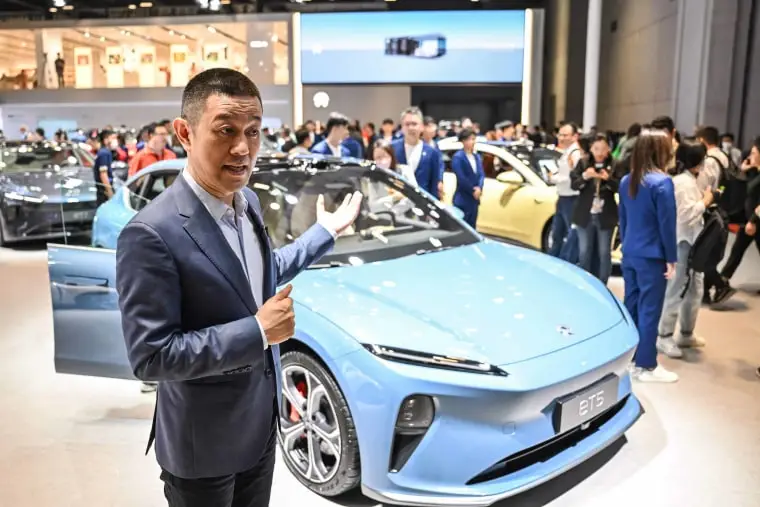 Only a few years ago, China had an estimated 300 EV makers, a number that analysts say will be winnowed down to a dozen or so in the coming years. Though local brands dominate China's EV market, they also face competition from foreign automakers that are trying to muscle in, such as General Motors and Volkswagen.
As with their counterparts in the U.S. and elsewhere, Chinese EV makers' profitability is threatened by excess capacity and a price war set off in January by Tesla, which has a factory in Shanghai. A pledge this month by Tesla and 15 other automakers to avoid "abnormal pricing" was retracted by the China Association of Automobile Manufacturers, which cited antitrust law.
Faced with pressure at home, China's EV makers are pursuing expansion abroad, especially in emerging markets. Last year, China's exports of EVs increased 131.8% year on year to around 680,000 units, official data showed. Thanks in part to the surge in EV sales, China overtook Japan as the world's top auto exporter in the first quarter of this year.
One place those exports are not going is the U.S., amid geopolitical tensions with China and efforts to strengthen U.S. domestic manufacturing.
"U.S. automakers are present in China, but there are no Chinese automakers present in the U.S.," Mandal said.
Chinese industry leader BYD — a Shenzhen-based company whose name stands for "Build Your Dreams," which is backed by U.S. investor Warren Buffett — now rivals Tesla as the world's biggest seller of electric vehicles, including hybrids.
The Seagull, a subcompact hatchback BYD unveiled at the Shanghai auto show, is the cheapest EV in the world, at about $11,000, compared with $25,000 for a Toyota bZ4X and $40,000 for Tesla's top-selling Model Y.
Tesla CEO Elon Musk, who laughed when he was asked about competition from BYD in a 2011 interview with Bloomberg, now says his views on the company have changed.
"That was many years ago," he wrote on Twitter in May. "Their cars are highly competitive these days."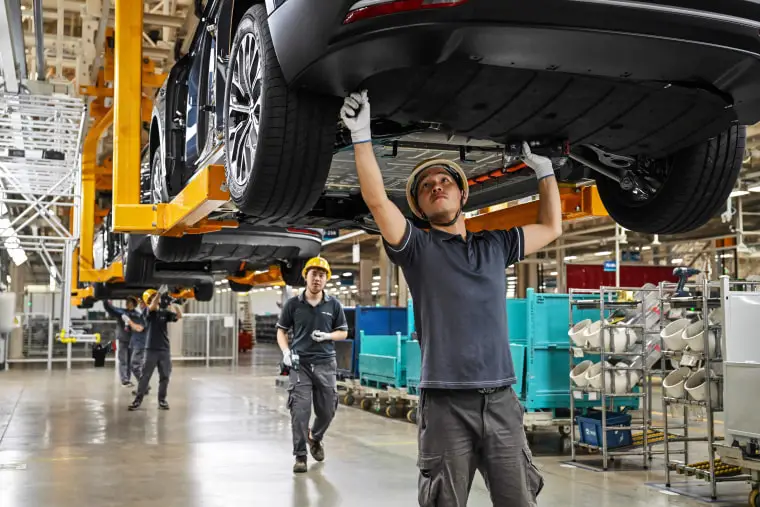 Other U.S. auto executives agree. When it comes to EVs, "we see the Chinese as the main competitor, not GM or Toyota," Ford Motor CEO Jim Farley said at Morgan Stanley's sustainable finance summit in May, according to a transcript.
In February, Ford said it would use technology from Chinese battery giant CATL at its new $3.5 billion EV battery plant in Michigan in a deal that was criticized by some U.S. lawmakers.
China is by far the global leader in making EV batteries, which it is able to do at lower cost, thanks to its dominance over the supply chain and raw materials such as lithium and cobalt.
If localizing China's battery technology in the U.S. "gets caught up in politics," Farley said, "the customer is really going to get screwed." 
Chinese EV makers have also benefited from billions of dollars in government subsidies, tax breaks and other incentives. Last month, officials extended a 10% purchase tax exemption for new energy vehicles through 2025 and said they would be exempt from half the purchase tax for two more years.
China's EV industry still faces headwinds, however, including uneven distribution of charging stations, a broader economic slowdown and the end of some government subsidies. Buffett, a BYD investor since 2008, has been selling off his stake since August, without saying why.
Though companies like BYD have made inroads in Europe, where EVs make up a larger proportion of auto sales, they face greater difficulties entering the U.S., which imposes a 27.5% tariff on Chinese-made cars and has other unfavorable policies.
Source: https://www.nbcnews.com/news/world/chinese-electric-vehicle-makers-lead-world-rivaling-us-pioneers-rcna88990
Related Posts