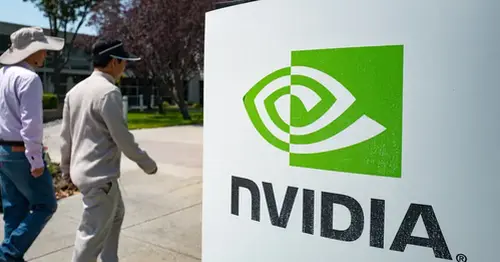 Chipmaker Nvidia hits $1 trillion market capitalization
Nvidia hit a $1 trillion market capitalization at the open of trading in U.S. markets Tuesday, joining a small club of mostly technology companies.
Nvidia's shares have to hold above $404.86 to maintain that distinction. Market capitalization is the value of a company based on its share price and the number of outstanding shares of a company.
The chipmaker's stock rocketed last week after it posted quarterly earnings with top- and bottom-line numbers that significantly beat consensus estimates. Nvidia's gain buoyed other chipmakers, with the notable exception of Intel, and was also fueled in part by estimates that were more optimistic than expected.
Significantly, Nvidia forecast $11 billion in sales for the fiscal second quarter of 2024 alone. Expected sales were 50% higher than consensus estimates of $7.15 billion.
It's been a banner year for chipmakers, parts of the tech industry and the Nasdaq, driven in part by the AI frenzy and the possibility of slowing Federal Reserve rate hikes.
Alongside Nvidia, Alphabet, Meta and Microsoft were also buoyed in last week's trading.
Nvidia's graphics processing units, or GPUs, are critical to generative AI platforms like OpenAI's ChatGPT and Google's Bard. The company has historically been a leader in the so-called "discrete" or standalone GPU field, but until recently, many consumers thought of GPUs as primarily used for intensive gaming.
Adobe unveils new AI features in Photoshop: Get a first look
May 23, 2023
04:32
The advent of crypto mining and AI has upended that belief, and GPU manufacturers and suppliers, including Nvidia, AMD and TSMC, have seen share prices rise significantly over the last few months.
By contrast, Intel, which struggled with inventory issues and development challenges, has been historically focused on the chip market for central processing units, or CPUs. The company hasn't shared, comparatively, in the wave of investor interest.
Source: https://www.nbcnews.com/tech/tech-news/chipmaker-nvidia-hits-1-trillion-market-capitalization-rcna86793
Related Posts