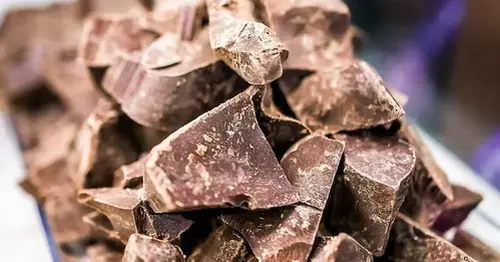 Chocolate expected to get more expensive as cocoa prices soar to 7-year highs
Chocolate lovers are in for a bitter pill to swallow — prices of their favorite food are set to rise further on the back of elevated cocoa costs.
Chocolate prices have risen by 14% in the past year, data from consumer intelligence database NielsenIQ showed. And according to some market watchers, they are about to rise further due to strained supplies of cocoa, which is a significant component of the much-loved foodstuff. 
"The cocoa market has experienced a remarkable surge in prices … This season marks the second consecutive deficit, with cocoa ending stocks expected to dwindle to unusually low levels," S&P Global Commodity Insights' Principal Research Analyst Sergey Chetvertakov told CNBC in an email.
More from CNBC
Inflation report Tuesday will be critical for the direction of Fed policy
Apple hits record high one week after announcing Vision Pro VR headset
Flush with cash, the Middle East is ramping up investment in soccer as a soft power push
Prices of cocoa on Friday surged to $3,160 per metric ton — the highest since May 5, 2016. The commodity was last trading at $3,171 per metric ton.
Chetvertakov added that the arrival of the El Niño weather phenomenon is forecast to bring lower than average rainfall and powerful Harmattan winds to West Africa where cocoa is largely grown. Côte d'Ivoire and Ghana account for more than 60% of the world's cocoa production. 
El Niño is a weather phenomenon that typically brings hotter and drier than usual conditions to the central and eastern tropical Pacific Ocean.
Chetvertakov foresees that the cocoa market could be dented by another deficit in the subsequent season, which runs from October to September next year. And that means cocoa futures could surge further to as high as $3,600 per metric ton, according to his estimates. 
"I believe that consumers should brace themselves for the likelihood of higher chocolate prices," he said, as chocolate producers are compelled to pass on higher production costs to consumers as they continue to be squeezed by rising raw material costs, surging energy expenses and elevated interest rates.
A large part of what goes into the making of a chocolate bar is cocoa butter, which has also seen a 20.5% increase in prices year-to-date, according to food commodity price database Mintec.
Spike in sugar and cocoa butter prices
"As chocolate is made up primarily of cocoa butter, with some cocoa liquor included in dark or milk, the price of butter is the most direct reflection of how chocolate prices would move," said Mintec's Director of Commodity Insights Andrew Moriarty.
He added that cocoa consumption is "near record highs in Europe." The region is the world's largest importer of the commodity.
Sugar, another principal ingredient of chocolate, is also seeing price spikes — breaching an 11-year high in April.
"Sugar futures continue to find support from ongoing supply concerns in India, Thailand, Mainland China and the European Union, where drought conditions have hit crops," a report by Fitch Solutions' research unit, BMI, dated May 18 said.
And as such, lofty chocolate prices are not expected to taper off anytime soon.
"Continued strong demand tied to whatever economic indicators one chooses to look at could keep prices high for the foreseeable future," said Barchart's Senior Market Analyst Darin Newsom.
"Only if demand starts to back down, something I don't think has occurred yet, will prices of chocolate start to back off," he said.
Among the different varieties of chocolate, prices of dark will reportedly be the hardest hit. Dark chocolate comprises of more cocoa solids compared to its white and milk chocolate counterparts, containing about 50% to 90% cocoa solids, cocoa butter, and sugar. 
Source: https://www.nbcnews.com/business/business-news/chocolate-expected-get-expensive-cocoa-prices-soar-7-year-highs-rcna88984
Related Posts