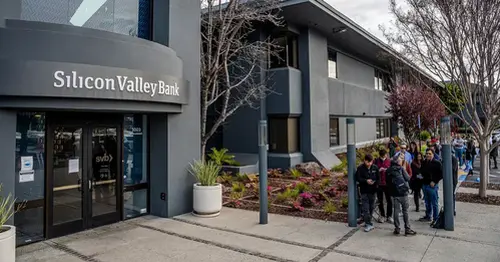 Conservatives blame Silicon Valley Bank collapse on 'diversity' and 'woke' issues
As the government races to contain the collapse of Silicon Valley Bank, conservatives are seizing on the rescue as a "Biden bailout" for a "woke" bank that caters to Democratic donors in "Big Tech."
While the GOP was traditionally aligned with business, its ascendant populist wing seems more interested in punishing corporations on the wrong side of the culture wars than in stabilizing the industry — at least while the party is out of power and doesn't bear responsibility for the fallout.
"Republicans will likely frame this bankruptcy and subsequent bailout as class warfare. It's East Palestine versus Silicon Valley," said Sam Geduldig, a Republican lobbyist, referring to the site of a recent train crash in Ohio that Republicans accused the Biden administration of ignoring. "We can't get into a situation where there's red banks and blue banks, and unfortunately, that's exactly where we are."
Geduldig noted, for instance, that Sen. Sherrod Brown, D-Ohio, the chairman of the Banking Committee, faces a tough re-election next year. "Republican campaign operatives are absolutely going to prosecute the case that Brown gave nothing to East Palestine and everything to Silicon Valley Bank."
Bank failures aren't especially uncommon — there have been 565 since 2000, according to the Federal Deposit Insurance Corp., typically several every year, even in non-recession times. 
But Silicon Valley Bank was uniquely positioned to spark a political firestorm, given its centrality to the tech sector. 
And the failure pushes several political hot buttons all at once: concerns about the power of Big Tech from both sides of the aisle, populist anger at bailouts, battles over corporate cultures that prioritize issues like diversity and the environment, and traditional economic concerns about regulation, government intervention, spending and inflation. 
It's the biggest bank failure since the 2008 financial crisis, when government bailouts sparked the right-wing tea party revolt — history President Joe Biden seems to be trying to avoid repeating by, this time, saying taxpayer dollars won't be used and insisting that those responsible will be held accountable.
But Republican presidential candidate Nikki Haley still called it a "Biden bailout," warning that while a pot of money that banks pay into may cover costs for now, taxpayers would be on the hook if it runs dry. "Joe Biden is pretending this isn't a bailout. It is," she said.
Others argued the failure was a result of "President Biden and congressional Democrats' reckless spending," as Alfredo Ortiz, the CEO of Job Creators Network, a conservative business group, put it, which he said drove up inflation, forcing the Federal Reserve to raise rates, which devalued older U.S. Treasury bonds held by the bank.
Still, the most vocal early reaction to the bank failure on the right was more concerned with bank culture than balance sheets.
"They're so concerned with DEI and politics and all kinds of stuff. I think that really diverted from them focusing on their core mission," Florida Republican Gov. Ron DeSantis, a likely presidential candidate, said on Fox News' "Sunday Morning Futures," referring to corporate diversity, equity and inclusion programs that have become a boogeyman on the right, along with environmental, social and governance, or ESG, investing.
Biden and lawmakers debate the federal role in the SVB collapse
March 13, 2023
13:32
DeSantis last month backed legislation to ban what he called "the woke ESG financial scam."
Silicon Valley Bank's chief risk officer drew particular attention from conservatives because she was involved in an LGBTQ employee group. "SVB is what happens when you push a leftist/woke ideology and have that take precedent over common sense business practices," Donald Trump Jr. tweeted over a screen grab of the employee's headshot.
Home Depot co-founder Bernie Marcus, an activist Republican donor, said on Fox News, "These banks are badly run because everybody is focused on diversity and all of the woke issues."
Sen. Josh Hawley, R-Mo., said he plans to introduce legislation to prevent consumers from paying any fees that might be raised on other banks to pay for the "woke bailout."
Fox News host Tucker Carlson suggested Friday that the bank was too focused on hiring "pioneering glass-ceiling-shattering women" and "yammering on about racial equity." 
One member of Silicon Valley Bank's 12-person board wasn't white. Fewer than half were women.
"The WOKE agenda coming from SVB is in a large part to blame for their FAILURE. How much money did they WASTE on financing ESG/CRT CRAP? The insane left-wing agenda is BANKRUPTING our future. Go woke, GET BROKE!" tweeted Rep. Ronny Jackson, R-Texas.
Stephen Miller, a top policy adviser to former President Donald Trump, called on House Republicans to investigate how much money the bank spent on diversity initiatives, "climate scams" and allegedly helping Democrats.
House Oversight Committee Chair James Comer, R-Ky., was already thinking about a similar line of inquiry Sunday, calling the bank "one of the most woke banks" on Fox News.
The writer of a Wall Street Journal op-ed criticized the bank for tracking the diversity of its board (one Black person, one LGBTQ person and two veterans), concluding, "I'm not saying 12 white men would have avoided this mess, but the company may have been distracted by diversity demands."
There's little evidence to support the idea that Silicon Valley Bank spent excessively on diversity or environmental policies. 
Regulators said the collapse was about its mismanaging bond risk by putting too much of its money in low-interest Treasury bonds purchased before interest rates climbed as the Federal Reserve tried to battle inflation. 
Most major banks have diversity, equity and inclusion programs for employees and financial products for customers that take into consideration environmental, social and governance issues, which include, for example, mutual funds that don't invest in fossil fuel or tobacco companies.
Last fall, a new "anti-woke" bank shut down after it quickly burned through $50 million in capital from major investors like conservative billionaire Peter Thiel. The startup was billed explicitly as an alternative to mainstream banks for conservatives, but it operated for fewer than three months before it shuttered.
Officials, economists and even libertarian-leaning tech leaders say depositors at Silicon Valley Bank need to be made whole, because it's not their fault the bank went bust — its executives and shareholders are expected to be wiped out — and because depositors' losing their money could trigger a runaway chain reaction that could result in job losses, defaults, more bank failures and even a recession. 
"There was an absolute need to restore confidence, both to protect against runs against many, many banks across the country and to assure that people could get their payroll checks, businesses could continue to function in Silicon Valley," former Treasury Secretary Larry Summers, who has been a skeptic of financial regulation and sparred with fellow Democrats at times, said Monday on MSNBC. 
Silicon Valley Bank and other regional banks successfully lobbied Congress to be exempted from regulation in the Dodd-Frank Wall Street reform law that may have headed off a failure, some experts say. The exemptions were supported by Republicans in Congress, along with some Democrats, and signed into law by Trump in 2018.
Talk of more regulation, however, worries Sen. Kevin Cramer, R-N.D., who called the government's rescue measures "too much, too fast." He argued that Biden set a dangerous precedent by backstopping 100% of uninsured deposits, "sending a signal to all banks that bad behavior will be rewarded."
"The collapse is clearly a liquidity crisis and not a capital crisis and should have been identified before the panic set in," Cramer, a member of the Banking committee, said in an interview. "Now [Biden] will likely use this failure to increase regulations on small banks, which will only incentivize further consolidation."
But in the same breath, Cramer also knocked what he said was regulators' focus on ESG efforts. 
Source: https://www.nbcnews.com/politics/politics-news/go-woke-get-broke-even-financial-crisis-culture-wars-trump-economics-rcna74692
Related Posts