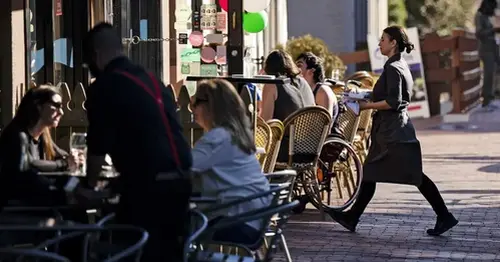 Covid transformed the U.S. labor market, and it isn't done yet
After a three-year national health emergency, over 1.1 million Covid deaths, a wave of retirements and high inflation, the U.S. labor force is smaller and tighter than before the pandemic. For workers, that means continued leverage to secure pay gains and better conditions even as the economy cools.
The labor market rebounded sharply from the blow dealt by Covid-19 as it swept the country in early 2020, thanks to aggressive federal relief measures and widespread vaccine rollouts. But the health crisis transformed the economy in ways that have persisted throughout the recovery, and analysts expect its ripple effects to linger despite a hiring slowdown and simmering recession fears.
When the world shut down in March 2020, low-wage workers in hospitality and other service roles saw some of the steepest job losses amid the sharpest drop in employment post-WWII, according to a National Bureau of Economic Research (NBER) study in March. While some parts of the economy have rebounded beyond pre-pandemic metrics, employers in many industries are still contending with staffing challenges.
Spending is back, demand for labor is back, but we have a smaller labor force.
— Wendy Edelberg, the brookings institution
"Spending is back, demand for labor is back, but we have a smaller labor force," said Wendy Edelberg, director of the Hamilton Project and a senior fellow at the Brookings Institution. "That is one of the reasons why the labor market feels tight and why firms have been reporting left, right and center that they're having a hard time finding workers."
The U.S. population is 1.4 million people shy of pre-pandemic projections based on its growth rate before Covid hit, according to an April Brookings analysis of federal data. About 900,000 of those "missing" people would have been expected to be working.
Edelberg attributed roughly 650,000 of those absences to deaths (Covid-related or otherwise) and the remaining 250,000 to immigration policies during the pandemic — particularly Title 42, a Trump administration measure that expired Thursday night along with the federal public health emergency.
What impact could ending Title 42 have on border cities?
May 11, 2023
04:12
Many of the nation's workers continue to suffer from health effects incurred during the pandemic.
A January report by the New York State Insurer's Fund, the state's largest workers' compensation carrier, found that during the first two years of the pandemic, 71% of patients with "long Covid" symptoms required ongoing medical treatment or didn't return to work for six months or longer.
A report from the management consulting firm McKinsey & Co., also from January, estimated that the economy lost 315 million to more than 1 billion working days among U.S. employees because of Covid last year alone, equivalent to 1.3 million to 4.3 million people's leaving the workforce.
"At the high end, that's about double the average number of sick days taken by US workers in the decade before the pandemic," the researchers wrote.
A key reason the labor market remains so tight is that the pandemic collided with an already aging U.S. population.
Some older workers bowed out of the workforce earlier than planned as employers slashed jobs and furloughed staff. As the subsequent recovery kicked off a hiring spree, many recent retirees came back off the sidelines, but others stayed put.
A recent study by the Federal Reserve Bank of New York flagged a 2.1 million worker "participation gap," which it largely attributed to the aging of the massive baby boomer population and a surge in retirements.
While job growth is finally cooling down and layoffs have been piling up for months, many employers remain hungry to hire. Government data showed 9.6 million job openings in March, coming down from last year's levels but still much higher than the roughly 7 million openings posted before the pandemic — in what was already a hot market at the time.
Last month the U.S. added 253,000 roles, continuing a lengthy run of job gains that have been a boon to workers, with many taking part in the so-called Great Resignation to seek out better opportunities and work-life balance, or even entirely new careers during the economic recovery. Others have reaped rewards by sticking around, as bosses add incentives to retain staffers.
Wage growth at the bottom is really making the labor market more equal.
— Arindrajit Dube, UMass Amherst
"We've had this huge imbalance between demand for employees and supply of employees for the last couple of years," said Paige Ouimet, a finance professor at the Kenan-Flagler Business School at the University of North Carolina at Chapel Hill.
"It's slowly starting to shift," she said, "but it is still a different situation in terms of the bargaining power that employees have relative to their employers."
An NBER study from March found that wage gains among the lowest-paid workers have substantially slowed the growth of income inequality. Arindrajit Dube, a study co-author and economist at the University of Massachusetts, Amherst, said the scale of low earners' pay gains was striking — rising 6% from January 2020 to September 2022.
"Wage growth at the bottom is really making the labor market more equal," Dube said.
Lower-wage workers have been pulling in more income "because they've been able to leave, because they've been able to find better jobs," he said. The trend has fanned a pandemic-era surge in labor organizing efforts, including at name brands such as Starbucks and Amazon, as workers test their leverage.
There are also signs that the tight competition for workers is increasing labor participation among certain groups.
According to Brookings, women ages 25-54 boosted their labor force participation by 1.5 percentage points since 2019, and Black people aged 25-64 did so by 1.7 percentage points over the same period.
Some demographics, however, are seeing the opposite trend. "White men of all ages and older white women are participating less" in the workforce, the Brookings researchers wrote. Labor force participation among white men ages 20 and older stood at 70.1% in April, down from 71% in March 2020.
The 23% labor force participation rate among people with disabilities is up from 20.7% in 2019, according to federal employment data. The uptick reflects the many disabled workers who have entered the workforce during the job boom — as well as the increase in people working with long Covid.
Remote and flexible work arrangements have made many jobs more accessible to those with disabilities. Government data showed 27.5% of private employers allowing full- or part-time telework as of last fall, the latest data available.
Source: https://www.nbcnews.com/business/economy/covid-pandemic-emergency-workforce-jobs-recession-rcna83412
Related Posts