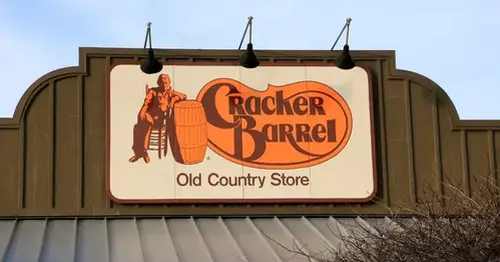 Cracker Barrel's support of Pride Month draws conservative backlash online
Cracker Barrel once again unintentionally found itself at the center of a culture war online.
On Thursday, some Twitter users expressed outrage over the popular Southern chain's embrace of Pride Month after the Texas Family Project, a conservative political advocacy nonprofit organization, posted screen grabs of the chain's statements and initiatives on diversity and inclusion.
"We take no pleasure in reporting that @CrackerBarrel has fallen," Texas Family Project wrote in its tweet. "A once family friendly establishment has caved to the mob."
Cracker Barrel did not respond to a request for comment. But a copy of the statement, which was shared by Texas Family Project, is on its website.
"Our food and décor celebrate warm memories of the past, and our inclusive culture and beliefs help us make way for an even brighter future, together," reads a line from one of the statements. "Discrimination, overt or through unconscious bias, has no place at Cracker Barrel Old Country Store."
Also sparking fury were photos of Cracker Barrel-branded rainbow rocking chairs, which accompanied the restaurant's initiative to set up Pride-themed seating areas.
This isn't the first time the chain restaurant and store, which has embedded itself into American Southern culture since its foundation in 1969, has found itself caught in the middle of a deep ideological divide.
After a Facebook post last year encouraged customers to try out its new ​​Impossible Sausage Made From Plants, thousands of commenters piled on as debate erupted over whether plant-based menu options meant Cracker Barrel had gone "woke."
The Texas Family Project's tweet again evoked protest from conservatives who lamented the restaurant's alleged "woke"-ness as well as facetious remarks from others mocking those users' dramatic reaction to inclusion. 
As of Friday afternoon, quote tweets on the original post had outnumbered its likes by nearly double.
"'We take no pleasure in reporting that Cracker Barrel has fallen' might be the funniest sentence ever composed using the English language," one user joked in a tweet that racked up nearly 20,000 likes in less than a day.
"where were you when Cracker Barrel fell," another tweeted.
Among conservatives, much of the outrage was boosted by other large right-wing accounts and public figures. Under a tweet by @EndWokeness, an account dedicated to "fighting, exposing, and mocking wokeness," hundreds of commenters announced they would never again visit Cracker Barrel.
Texas Rep. Ronny Jackson also joined in on the protest, tweeting: "BYE BYE CRACKER BARREL! I will NEVER eat there again!!"
Still, not everyone shared the sentiment that the restaurant chain had "fallen."
Cracker Barrel's Pride Month-inspired Facebook announcement that "everyone is always welcome at our table" appeared to be met with a more positive response.
Source: https://www.nbcnews.com/nbc-out/cracker-barrels-support-pride-month-draws-conservative-backlash-online-rcna88635
Related Posts